2013 Nations Cup to revive 'white elephants'
By Piers Edwards
BBC Sport
Last updated on .From the section Football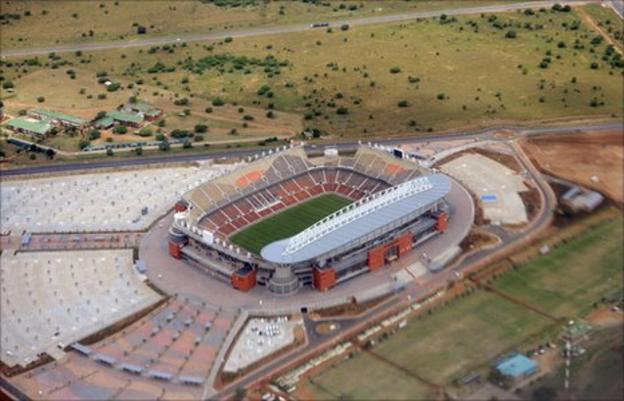 The decision to award South Africa the 2013 Africa Cup of Nations will revive the country's World Cup stadiums, says local FA chief Kirsten Nematandani.
On Tuesday, the Confederation of African Football approved South Africa and Libya's decision to swap their hosting of the 2013 and 2017 finals.
World Cup organiser Danny Jordaan recently said more could have been done to ensure the new stadiums' viability.
"The Nations Cup presents them with a great opportunity," said Nematandani.
"They will be better utilised for the better use of the game itself and [show] that taxpayers' money has been well-invested."
Since the World Cup, many of the new stadiums, particularly those in Durban, Cape Town and Nelspruit, have faced major challenges in securing regular events to offset the high maintenance costs.
The magnificent Cape Town Stadium, which was built at a cost of some US$600m, has only been used for a handful of football matches since it hosted the World Cup semi-final in July 2010.
Those in Polokwane and Port Elizabeth have also struggled to find use on a regular basis.
Yet Nematandani refused to be drawn on which cities can expect to host matches in the 2013 Nations Cup.
"We are not going to speculate on that," he told BBC Sport.
"We have to set plans out and consult with everybody on the ground and then we will arrive at what is best in the interests of the tournaments and the costs of hosting it."
The Nations Cup finals traditionally use four stadiums and South Africa has ten World Cup venues to choose from in Johannesburg (two), Bloemfontein, Cape Town, Durban, Nelspruit, Polokwane, Port Elizabeth, Pretoria and Rustenburg.
South Africa was awarded the finals after Caf ruled that the recent fighting in Libya rendered the North African nation incapable of hosting the tournament in sixteen months' time.
"I must say we have worked quite well in terms of coming up with a solution that would have been a headache for Caf," Nematandani, who was in Cairo to press home South Africa's case, added.
"The exchange will assist Libya's reconstruction and by 2017, things will be up and running there."
"We're looking forward to a great tournament once again in South Africa and I believe we still have all the resources that we had - from the volunteers to the facilities themselves."
And the South African football supremo believes that the national team, Bafana Bafana, can use the opportunity to win the tournament - just as they did when they last staged the finals in 1996.
"It augurs well for the boys in that it is happening in their own backyard. With the nation behind them, the sky is the limit."
When South Africa became the first African nation to stage the World Cup, Bafana Bafana suffered the ignominy of becoming the first hosts to never reach the knock-out stages.