Alex Oxlade-Chamberlain to star for Arsenal and England, says Pat Rice
Last updated on .From the section Football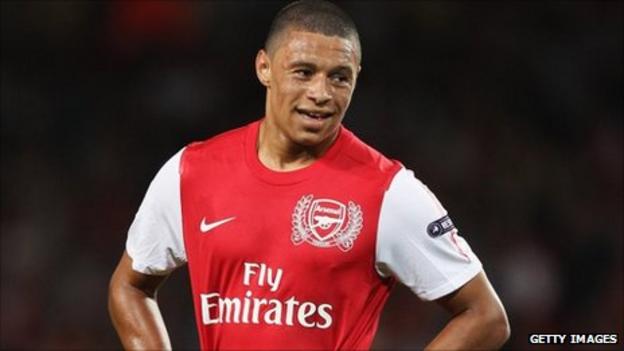 Arsenal assistant Pat Rice has backed winger Alex Oxlade-Chamberlain to battle with Theo Walcott for a starting place both at the club and for England.
By netting Arsenal's opening goal in their 2-1 win over Olympiakos, the 18-year-old became the youngest Englishman ever to score in the Champions League.
And Rice believes he has the potential to play for England in the future.
Rice said: "He has a big, big challenge to now get in front of Theo. It all bodes well for England anyway."
Like Walcott, Oxlade-Chamberlain joined the Gunners from Southampton.
Walcott has gone on to make more than 150 appearances for the north London side as well as becoming a regular in Fabio Capello's England set-up.
But Rice believes the 22-year-old now faces a real challenge to keep his place ahead of Oxlade-Chamberlain, who joined the club for £12m in August.
"From Arsenal supporters' point of view, they are going to be seeing a lot of this boy," Rice added.
"I know that Theo is a very strong-willed guy as well and he won't give in easy.
"Alex can go inside, he can go outside, he's got that injection of pace and I think what he needs now is to be consistent in his play.
"I am sure that is something he will be working on because he's certainly not a stupid boy.
"He has good people around him and they are telling him all the right things.
"Alex is very friendly with Theo and no doubt he will give him the benefit of his experience as well."
Oxlade-Chamberlain put Arsenal ahead with a weaving run and low shot before fellow new signing Andre Santos doubled the lead inside 20 minutes.
But Arsenal's defensive problems threatened to undermine them again when they inexplicably allowed Ariel Ibagaza to cross for David Fuster to head in.
Rice added: "From a defender's point of view it was a really poor goal to concede.
"They [Olympiakos] battled very hard and had a lot of the ball. But in terms of what Wojciech Szczesny had to save he hasn't had too much to do.
"Needless to say we will be very, very happy with the three points. The most important thing for us was to win, because it takes us closer to qualifying."
Olympiakos coach Ernesto Valverde said: "When you have let in two goals so early, that has affected us and left a bitter taste.
"We were a bit disappointed because we tried to take something out of the game."