Stuart Pearce says he is not ready for England job
Last updated on .From the section Football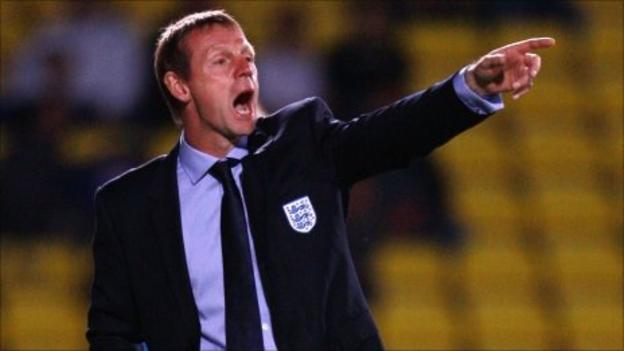 Stuart Pearce has ruled himself out of the race to succeed Fabio Capello as England manager.
England Under-21 boss Pearce, 49, who has been part of Capello's staff with the senior team for four years, said: "At this stage, I don't have the experience for the job.
"I believe it's maybe a job for an older man who has got more experience."
Capello's contract expires at the end of the 2012 Uefa European Championship in Poland and Ukraine.
Former England left-back Pearce, who is set to be appointed manager of the Great Britain men's football team at next summer's Olympics, told talkSPORT: "At this moment in time, I have managed Manchester City, had a brief spell at Nottingham Forest, and the under-21s.
"If you amass all the games there, it is less than 200 matches. For me, there is not enough experience there.
"I am enjoying what I am doing and whoever the next man is through the door when Fabio leaves, I will obviously give him as much support as he needs from me, or I can give him, to help him do his job to the best of his ability."
Pearce has led the under-21s side to the European Championship on three occasions, reaching the semi-final in 2007 and the final two years later.
Although they struggled at this summer's finals in Denmark, failing to get past the group stage, Pearce signed a new two-year contract in July.
The Football Association have eased back from their previous insistence that Capello's successor would be English, although in some quarters there is still a clamour for that to be the case.
Pearce added: "I can quite understand one or two people's sentiment that possibly I should be pitching in for an opportunity to do this job. I just feel as though it's not the right time at the moment.
"As I see, very, very often, people get elevated very quickly and written off very quickly. For me, it's not the right time to put my name in the hat.
"I'm gaining experience and I'll be a better candidate in a few years time, I hope."