Man Utd 'opportunity' for Norwich City to shine, says Bennett
Last updated on .From the section Football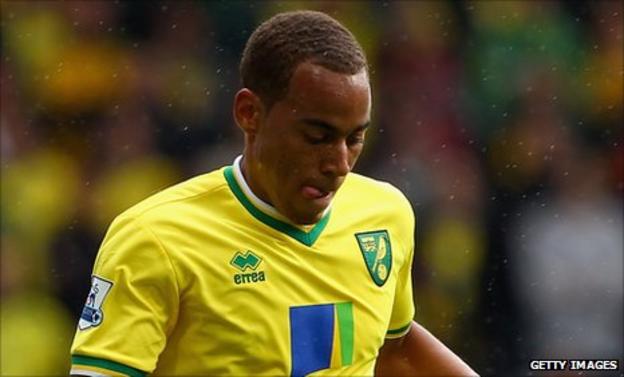 Norwich City winger Elliott Bennett sees Saturday's trip to Manchester United as a chance to show the progress the club have made.
The newly promoted Canaries go to Old Trafford off the back of two straight wins in the Premier League.
"It's a massive opportunity for all of us to show how far we've come," Bennett, 22, told BBC Radio Norfolk.
"Hopefully we can go there and give a really good account of ourselves like we have done in the previous games."
After back-to-back promotions, and with a squad of players plucked from the lower divisions, Norwich have taken eight points from their opening six games.
And this weekend will mark City's first appearance at Old Trafford in over seven years, when Sir Alex Ferguson's side ran out 2-1 winners.
"When you start out playing football you want to play in big stadiums in front of all those people," added Bennett, who played in League One with Brighton last season.
"That's what you play football for, it's the 'Theatre of Dreams' for a reason.
"We're going to enjoy every game we play in this league, that doesn't mean we're going there to look around the stadium, we're going there to do business.
"Hopefully our hard work and the football we play can pay off, who knows? Anything can happen, it's 11 players against 11 at the end of the day."