Jimmy Calderwood Calderwood criticises calibre of Aberdeen players
Last updated on .From the section Football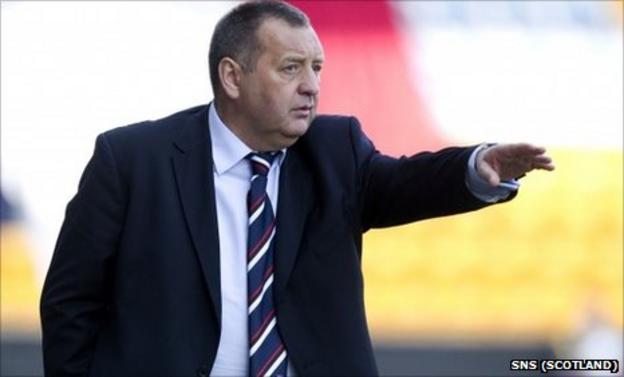 Jimmy Calderwood feels former club Aberdeen have struggled to replace the experienced professionals that have followed him out of Pittodrie.
Calderwood lost his job as Dons boss in May 2009 and the club has spent the subsequent period in the bottom half of the Scottish Premier League.
"A lot of experienced players have left the club," said Calderwood.
"I don't think the quality of player they have brought in are as good as the quality of the ones who have left."
Craig Brown and Archie Knox are struggling to improve the poor results at Aberdeen under predecessor Mark McGhee.
Currently sitting second-bottom in the SPL table, they head into Friday night's visit of Dunfermline having failed to score in seven of their nine league games this season and Calderwood admits he expected better of the team.
"They are very experienced, him and Archie, and it's always the manager who gets the blame," said Calderwood.
"Zander Diamond left, Derek Young knew what Aberdeen was about, Mark Kerr, Gary McDonald - all good pros who know what's needed to win a football game.
"It's a massive game for them now on Friday - they have Dundee United, Rangers and Celtic after that.
"The expectation would be top six at least and probably higher.
"It's a worry and it`s a worry for Scottish football also. Aberdeen only took 450 to Easter Road against Hibs, which is one of the bigger games of the stadium.
"So it's costing everybody and Scottish football needs a good Aberdeen team."
Calderwood appeared to pay the price for the high expectations at Pittodrie after failing to achieve cup success, but managed to take the club to the last 32 of the Uefa Cup, securing another season of European football, and regularly achieved top-six status in the SPL in his five years at the helm.
Success at Pittodrie has evaded the club in recent years, despite an honour-filled past, but Calderwood does not believe the club's past glory under Sir Alex Ferguson weigh down the new regime.
"I had that in the beginning but not in the end," said Calderwood.
"But they do expect to get in finals and be high up in the league.
"And financially-wise, even though everyone is struggling, they are probably the fourth biggest team in Scotland.
"I think they should be doing better than they are but it`s easy to blame the manager all the time."
Calderwood does not feel vindicated by Aberdeen's struggles and still does not understand fully why the board decided to move on.
"I don't think I had anything to prove. I thought we had a magnificent record - three times getting into Europe with two different clubs," said Calderwood.
"Okay we lost in the cup semi-finals but every year in the top six, I think that says enough. But I'm still not working."
"It could be character, some people like you and some don't.
"That's the things that annoys me, I always had my own choices in life when I was leaving a club.
"That wasn't my own choice and I didn't see it coming, which really annoys me, because I'm usually quite clever when it comes to those things. But I wasn't then."
When asked if he would ever return to Pittodrie if asked to go back at any stage, he said: "I don't think I would be asked.
"It broke my heart leaving, I love the club, I love the city.
"I would need to talk to a few people first and get a few truths from people."