Udinese defend weakened squad for Celtic Europa League tie
Last updated on .From the section Football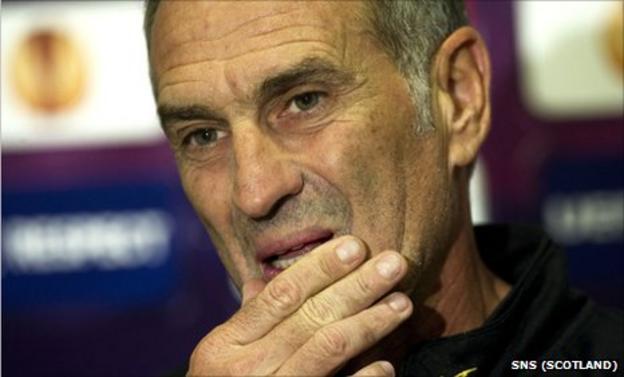 Udinese coach Francesco Guidolin has defended his decision to bring a weakened squad for Thursday's Europa League tie against Celtic.
The Italian club have travelled without recognised first-team striker with Guidolin claiming Italian international Antonio Di Natale is "tired"
"I would have brought everyone along but many of the squad are very tired," Guidolin said.
"My choices are logical - if anyone doesn't like it then tough."
Strikers Paulo Barreto and Antonio Floro Flores are both reportedly injured and it is expected that 21-year-old attacking midfielder Diego Fabbrini is set to support Almen Abdi, a midfielder who will be asked to play the lone-striker's role.
The only attacker who travelled is 17-year-old Davide Marsura who will start on the bench while 19-year-old Christian Battocchio and 17-year-old Mattia Bedin could start in a five-man midfield.
Di Natalie was instrumental in Udinese's qualification for Europe scoring 28 goals in 36 appearances for the Italian side last season, but Guidolin said he would not have been able to play 90 minutes in Glasgow.
"It is a problem for us but it would have been a problem if Di Natale had travelled. He would have only played some of the game," said Guidolin.
"What the people in Italy are saying isn't really important, the choice of players I have brought has been well thought out, it wasn't a decision I reached quickly.
"Di Natale has played four games in 15 days and if he were here I couldn't expect great things from him.
"These are choices that have been forced upon me.
"If we were playing Atletico Madrid or Rennes tomorrow I would have made the same decision but two weeks from now, who knows?
"But let me make it clear to the Scottish journalists, there is absolutely no way that I am turning my nose up at the Europa League or underestimating Celtic, absolutely not.
"This is the probably the toughest group in the competition."