Man City's Carlos Tevez should be banned if he refused to play - Fifa boss
Last updated on .From the section Football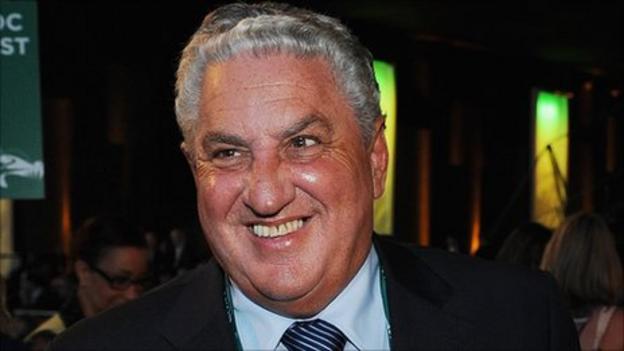 Carlos Tevez should be banned from football if it is proven that the Manchester City striker refused to play against Bayern Munich on Tuesday, says Fifa vice-president Jim Boyce.
"I think what happened was despicable," said Boyce, a former president of the Irish Football Association.
"I believe Fifa should have the power to ban the player from taking an active part in football."
City have suspended the Argentine for two weeks pending an investigation.
City boss Roberto Mancini said he felt Tevez could never play for the club again after claiming the Argentine had refused to come on as a substitute in the Champions League group match.
But the player, who has been unhappy with his lack of playing time in recent weeks, feels his row with Mancini was about warming up and not a refusal to play.
Boyce, who was speaking in a personal capacity, told Sky Sports: "If he has done what has been said, then I think his club would be better off without him."
"If Manchester City prove it, write to Fifa and state the exact circumstances that happened, I would have no problem with that whatsoever.
"If this player did what he has been accused of doing, then if Manchester City were to release him I don't think it would be right if he could go and earn a considerable amount of money somewhere else next week.
"I would have no problems if some sanctions were imposed by Fifa in that respect.
"People within the clubs and within the top level of Fifa have to consider that if Carlos Tevez does it, who's to stop someone else doing it the next week or the week after?"