Chelsea midfielder Frank Lampard wants return to starting XI
Last updated on .From the section Football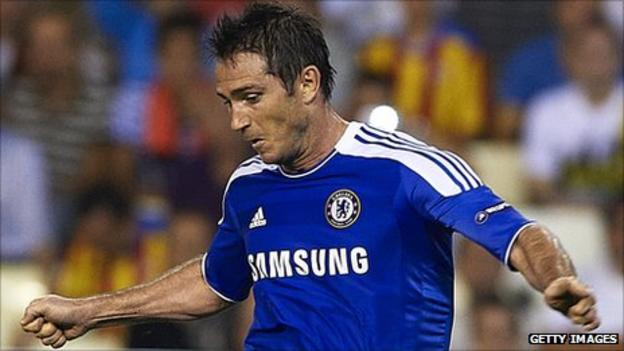 Chelsea midfielder Frank Lampard says he hopes to regain a regular starting place in the Blues' side after scoring in the 1-1 draw with Valencia.
The 33-year-old, who had started three of the previous four matches on the bench, hit the opener before a late penalty gave the Spanish side a draw.
"I want to play," said Lampard. "I don't want to just pick my money up and sit on my backside or on the bench.
"I like to play regularly, it helps me keep my momentum and stay fit."
Lampard's 56th-minute strike looked like being the match winner until a Salomon Kalou handball allowed Roberto Soldado to equalise from the spot three minutes from time.
"Nothing's in the script, you have to work for it but I'm pleased," added the former West Ham man.
"I've missed out on a few games recently but you have to keep on top of yourself, work hard and when you get your chance you have to show. That's what I tried to do tonight."
Having come off the bench for only 27 of his 518 Chelsea appearances, Lampard admitted it was frustrating to have been a substitute in recent weeks but said that he respected the decision of coach Andre Villas-Boas.
"You have to respect the manager, respect the team and the quality of the squad we have," continued Lampard.
"It's a big squad and the manager has to do what he sees fit. If he wants to bring young players through at times you have to go along with that.
"I'm fortunate enough that I'm at a club that I love and I've got a great history here and I want to continue that story on for a few good years.
"I don't always start the season fresh out of the blocks so hopefully now I can get a run of games but it's down to the manager."
The result in Spain left Chelsea top of Champions League Group E but victory would have given them a boost in their bid to progress to the last 16.
Lampard said: "[It was] a bit frustrating. Valencia did start to push a little bit after our goal but we created a lot of chances and at 1-0 up you are frustrated to lose the game.
"It may be a fair result when you look back at it but we're sat in the dressing room knowing we created a lot and knowing their keeper pulled off three or four great saves whereas Petr Cech only made a couple."
Villas-Boas was also frustrated to lose the lead after his side appeared on course to claim back-to-back European victories.
He said: "It was a pity because I think we looked good to get three points. It was a very good performance from the team.
"I think it was more deserved for us to win this game.
"Before the game if we were offered a 1-1 draw with Valencia maybe we would have been happy. But it leaves us with a feeling we don't like."