Kettering boss Mark Stimson slams 'unprofessional' duo
Last updated on .From the section Football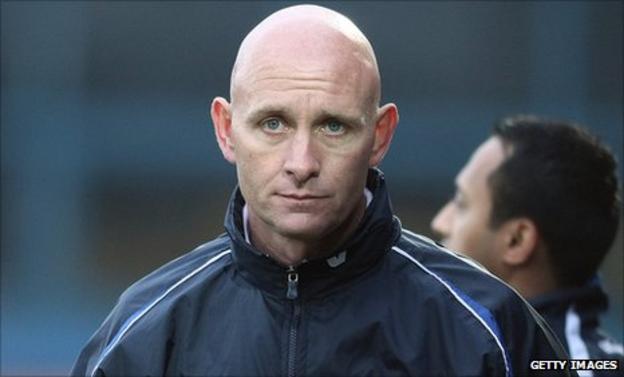 Kettering Town boss Mark Stimson has criticised the "unacceptable" behaviour of Moses Ashikodi and Jean-Paul Marna.
Stimson told BBC Radio Northampton: "I couldn't believe what I was seeing and I don't want to experience it again.
"We're not saying they won't ever play for the club again, but we're saying if they are fortunate enough to, 'don't do something twice.'"
The pair came to blows in the closing stages of the Hayes defeat after a dispute over who should take a penalty.
Ashikodi eventually missed the spot-kick and after the Poppies scored from the subsequent corner, the strikers came to blows on their way back to the centre circle.
A statement from the club, containing details of what action the club are taking, is expected on Thursday afternoon.
"I speak about professionalism and it was totally unprofessional and unacceptable," said Stimson.
"The club is bigger than any individual and I'm sure the right things will be done.
"We have to move on, look forward and the most important thing is to make this new ground ours, start winning football matches and get points."