McCoist does not rule out a Rangers move to England
By Jane Lewis
BBC Scotland
Last updated on .From the section Football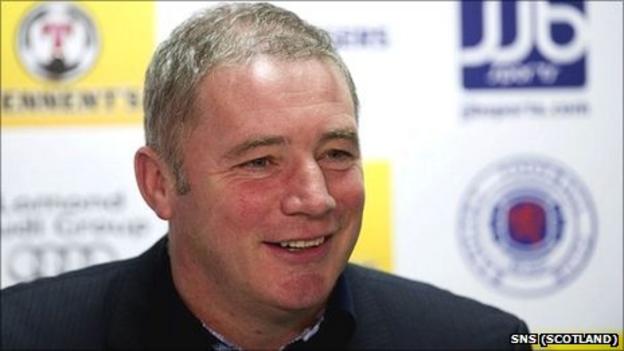 Rangers manager Ally McCoist has told BBC Scotland that a move to the English Premier League could happen - but it would require a great deal of work.
Ibrox owner Craig Whyte told The Telegraph newspaper on Wednesday that he was keen to push for a move to England or to a new Nordic league.
"There is a massive amount of work to be done. Television would have a big say in it," said the Rangers boss.
"When people want something an awful lot, then anything can happen."
Rangers' seven-point lead in the Scottish Premier League contrasts with their financial worries.
They face two separate tax bills totalling about £54m, though Whyte is confident that the club will win its case with HMRC over the much larger element - the demand for £49m for the way it used its Employee Benefit Trust between 2001 and 2010.
McCoist says he is not privy to any talks that may be happening about a move away from the SPL, telling BBC Scotland that that would fall within the remit of the club's chairman, Whyte.
He is, though, in favour of a switch.
"There is an awful lot of work to be done before anything like that would happen," he said.
"Could it happen? Of course, absolutely. Television has a far bigger say in the proceedings than a lot of people would imagine.
"A lot of things would have to happen for this to happen, lots of discussions.
"I, for one, am not going to say it is never going to happen.
"From Rangers' and Celtic's point of view it would very encouraging. It is obviously a completely and utterly different market.
"If Rangers and Celtic could get involved in that, the financial side would be absolutely fantastic."
Talks of an Old Firm move to England have rumbled on for years but at the end of 2009 they seemed to have been blocked for the foreseeable future.
Bolton chairman Phil Gartside's proposal of a two-tier league of between 36 and 40 teams, with Rangers and Celtic joining the lower tier, was rejected.