Caf postpones decision on Zengue's eligibility
Last updated on .From the section Football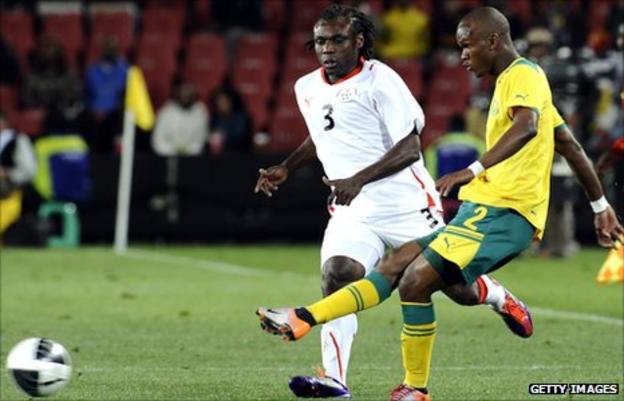 The Confederation of African Football (Caf) has delayed making a decision upon the eligibility of Cameroon-born Herve Zengue to play for Burkina Faso.
Zengue's nationality is key to deciding whether Burkina Faso or Namibia qualify for the 2012 Africa Cup of Nations.
Caf has revealed that it has postponed any decision 'in order to obtain more information and determine [Zengue's] qualification or non qualification'.
Namibia stand to qualify for January's finals should their protest be upheld.
At present, Burkina Faso's nine points are good enough to qualify them from three-team Group F.
But should Zengue be found to be ineligible, Namibia will be awarded automatic wins from the games in which he played - both of which resulted in wins over the Brave Warriors.
Such a dramatic turnaround would mean the southern Africans would qualify for only their third Nations Cup in history.
The Stallions believe that the 27-year-old is eligible to play for them because he is married to a Burkinabe.
However, this is not a satisfactory ruling under the rules of football's world governing body.
Fifa statutes say a player born outside any country must fulfil one of three other criteria in order to represent them.
His mother or father was born on the territory of the relevant association.

His grandmother or grandfather was born on the territory of the relevant association.

He has lived continuously for at least five years after reaching the age of 18 on the territory of the relevant Association.
It is unclear at present whether Zengue meets these criteria.
Zengue's sole two competitive games for Burkina Faso this qualifying campaign have both come against Namibia, with the Stallions winning 4-1 away in March and 4-0 at home in June.
The Namibian Football Association launched its protest on the eve of the home fixture.