Paul Scholes understands Carlos Tevez's refusal to play
Last updated on .From the section Football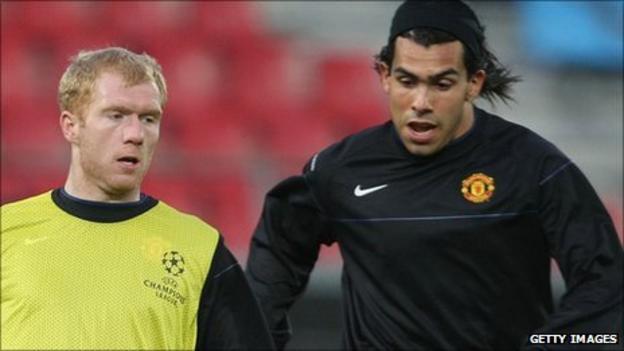 Paul Scholes says he understands why Manchester City's Carlos Tevez apparently refused to warm up against Bayern Munich.
Ex-Manchester United midfielder Scholes was unwilling to play in a League Cup tie in 2001, having been dropped for the previous game against Liverpool.
He stated what he did was "equally bad if not worse" than Tevez's situation.
"I know Carlos quite well. He's a player who wants to be playing," Scholes told BBC Radio 5 live.
"When he's a sub, it will be killing him.
"It's totally up to the manager but Carlos wouldn't have been thinking that. He'll be thinking, 'The manager is against me, why is he not bringing me on? I'm City's best player and he's not playing me'.
"I'm not saying he [Tevez] is right - it's totally up to the manager."
Scholes, 36, refused to play for Sir Alex Ferguson after being selected in a weakened team for a November 2001 League Cup defeat by Arsenal, a day after being dropped for a Premier League defeat by rivals Liverpool.
And he added: "You think you should be playing and my head was all over the place. I thought he [Sir Alex Ferguson] was messing me about, wrongly really. It's up to him what he does with his team.
"I realise it was stupid. I let the manager down and it was something I regretted. It's probably similar to Carlos Tevez's state of mind if it is true he refused to come on."
Scholes insists he apologised to Ferguson soon afterwards and was fined a week's wages.
He said: "Considering what I did, the manager was well within his rights to sack me and do whatever he wanted me to do with me.
"I went to apologise as soon as I realised I'd made a massive mistake.
"He fined me the maximum and that was it - the story was over and I think I played the next game."
The former England international retired in the wake of United's Champions League final defeat to Barcelona in May to take up a coaching role within the backroom staff at Old Trafford.