Shamrock Rovers 'worried' Tottenham boss Harry Redknapp
Last updated on .From the section Football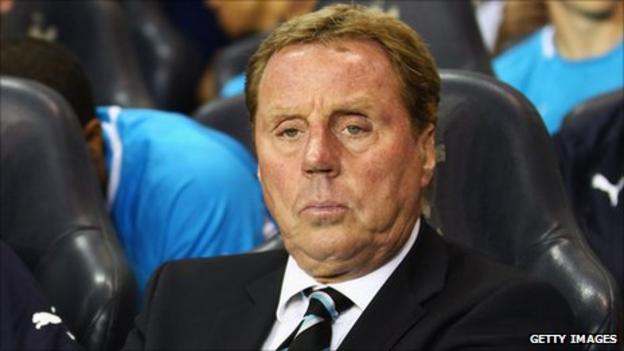 Tottenham manager Harry Redknapp admitted he was "worried" for his team in their Europa League match against Shamrock Rovers.
"They got the first goal and I was worried," he said. "But we were always going to create chances and it was just a matter of putting them away.
"When you pay players a lot all you can ask is that they work hard and this group do."
Stephen Rice put Shamrock Rovers ahead after 50 minutes but Roman Pavlyuchenko's equaliser on the hour was the first of three Tottenham goals in five minutes. Jermain Defoe and Giovani dos Santos scored the others.
Rovers manager Michael O'Neill admitted dreaming of what might have been when his side went ahead.
"I kept looking at the clock and it was telling us there was a long way to go still," he said. "You do start to think 'can we actually see this out?'
"Ultimately, Tottenham's pace and freshness overcame us in the last half-hour but the players gave every ounce of effort. They played with great heart even when the score went to 3-1. They were a credit to themselves, the club and the League of Ireland.
"We were going to get a reaction [from Spurs] when we scored. After scoring we played well and they seemed to be knocked out of their stride but you look at the bench and who they can introduce into the game and you begin to fear at that point."
Spurs face Arsenal in the north London derby on Sunday with Redknapp's side looking to break into the top four with a win.
Arsene Wenger's team have had defensive problems this season - conceding 14 goals in their six league games so far - but Redknapp defended his counterpart from any criticism.
When asked if he expected his side to take advantage of Arsenal's new-look back four, Redknapp said: "You can't get the Arsenal of old.
"You can't find Tony Adams - he's disappeared out to Azerbaijan or somewhere ridiculous in the world.
"He was a great captain, a great leader and a great communicator but you can't live in the past. That back four with David Seaman behind them was a great back four but they are never going to be as strong as that again.
"It's like saying the West Ham defence is not as strong as when Bobby Moore was there, but it's not going to be, is it? You've got to get on with what you've got.
"Arsenal are dangerous and it will be a tough game. You look at that front line of Theo Walcott, Robin van Persie and Gervinho and there is pace and ability there in abundance."