Manchester City's Edin Dzeko sorry for dissent in Bayern Munich game
Last updated on .From the section Football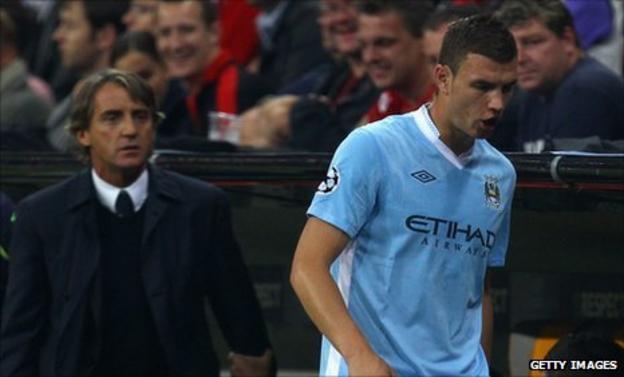 Manchester City striker Edin Dzeko has apologised to manager Roberto Mancini for his reaction to being substituted in the 2-0 defeat by Bayern Munich.
The Bosnian, 25, moaned to Mancini after being replaced in the second-half of the Champions League match and continued his complaints on the bench.
"I know my reaction was bad and I have spoken to the guys and coach as well," he told the club's official website.
"I have apologised and Roberto has accepted it and said everything is OK."
Fellow striker Carlos Tevez was the main focus following the match after it was alleged he refused to appear as a substitute.
But Mancini was also furious with Dzeko's reaction, saying after the game: "He [Dzeko] was disappointed but he played a bad game. It is the last time any player at this club does that."
Dzeko, who moved to Etihad Stadium for £27m from Bundesliga club Wolfsburg, said he was frustrated with his performance on his return to Germany.
He added: "I was unhappy because we were 2-0 down and I wanted to win the game.
"It was something special for me to go back to Germany where I played for a long time and I wanted to do well and wanted the team to do well.
"Things didn't go well for us. That is why I was extra frustrated."
Dzeko said the players have now put the game behind them and are focused on the Premier League match against Blackburn Rovers on Saturday.
"Everyone has had a sleep and a rest after the Bayern game and we know we could have done better but it is football and you cannot win every game," he said.
"Bayern Munich is behind us, we are feeling positive and looking forward to the next game. That is our new target now."