Gumede wants match-fixer's extradition to Zimbabwe
Last updated on .From the section Football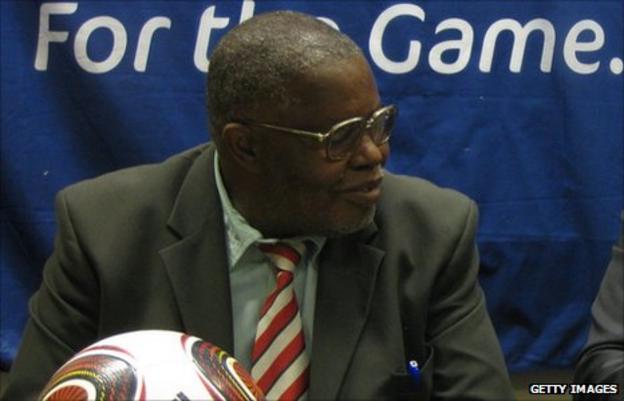 Ndusimo Gumede, the vice-president of Zimbabwe's FA (Zifa), says his body will try to extradite convicted match-fixer Wilson Raj Perumal to the nation.
Perumal has also been linked to alleged fraud during a trip Zimbabwe made to the Far East in 2009.
"It is our wish and that of the police that he be brought to Zimbabwe and face the music here," Gumede told BBC Sport.
"For the contamination that he put the Zimbabwean football association through and the Zimbabwean nation as a whole."
Gumede says that Chris Eaton, the Head of Security at football's world governing body Fifa, will help to get Perumal to Zimbabwe.
"We're glad that [Eaton] said he will assist us and the police in trying to extradite the main culprit in this saga to come for criminal charges in Zimbabwe when he's done his prison sentence in Finland."
Eaton has been visiting Zimbabwe to help Zifa with its ongoing investigation into national team tours of Asia between 2007 and 2009.
An initial probe found that players were paid to lose matches but as yet no punishments have been handed out to those involved.
Gumede confirmed that Zifa are still in charge of the investigations and will have the final say on any sanctions.
"Yes definitely - the ball is in our court," he said.
"The investigative committee has done its bit - it's now the Independent Disciplinary Committee that will take its time, read through the scripts and decide when to call the fingered persons.
"It will then give them an opportunity to air their views, exonerate themselves and we are hoping that we will be over and done with this scandal come the end of the year."