Grimsby shareholder Mike Parker offers shares to fans
Last updated on .From the section Football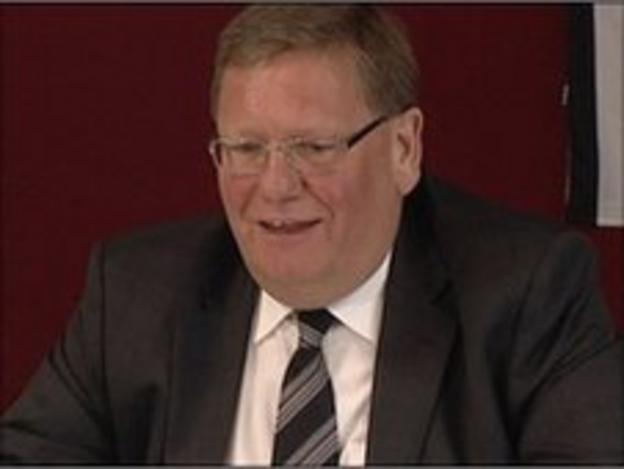 Grimsby Town's leading shareholder Mike Parker has offered to give the club's Supporters Trust a controlling balance of shares in the club.
Parker's move would reduce his shareholding to parity with that of former chairman John Fenty - and leave the Trust holding the balance of power.
Trust spokesman Dave Otter told BBC Radio Humberside the offer was "a complete surprise".
Otter said the Trust had yet to decide whether to accept the offer.
In a statement, Parker said: "Following discussions with all relevant parties I have agreed to "sell down" the £500,000 of the shares that I have purchased in Grimsby Town Football Club Plc since March.
"I will be offering all of these shares, with all associated rights, as a gift to the Grimsby Town Supporters Trust.
"Should the Trust accept these shares this will give them a strong voice in the club's affairs.
"As with any transfer of shares in a limited company, this transfer will require approval of the Board of Directors of Grimsby Town Football Club Plc."
Parker, who currently owns 54% of the shares in the club, added he would be looking to reduce the balance of his shareholding still further.
Otter said the Trust would have to carefully consider the implications of the offer.
He said: "As I understand it, it's as a result of the takeover panel and Mike is reducing his shareholding and he had to give his shareholding to a body he didn't have a direct relationship with so it ended up being us."
A takeover panel has been examining the business relationship between Parker and Fenty insofar as it relates to the football club.
Otter continued: "I understand Mike has put no conditions with the offer, but there are still legal and financial considerations that we need to consider over the next few days."
Grimsby Town's board of directors will have to approve Parker's plan.
Chief executive officer Ian Fleming said the club could not survive on gate receipts and commercial activity alone.
Fleming said: "That's simply not enough, and it's not enough at most football clubs.
"You look at Luton who have an external funder, you look at Fleetwood who have an external funder and we need to seek to secure who that is going to be in the future."