Everton vs Liverpool: David Moyes highlights growing cash gap
Last updated on .From the section Football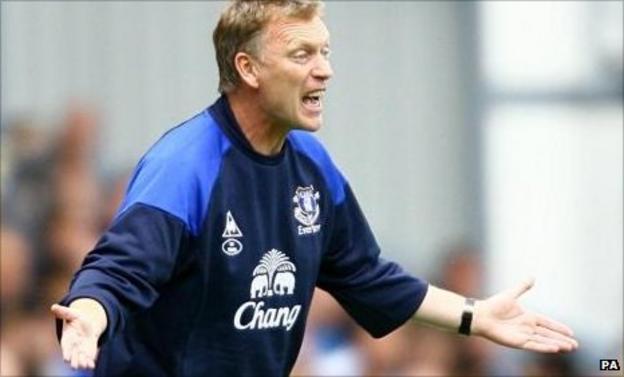 Everton manager David Moyes has spoken about the financial gap which has widened over the last year between his club and city rivals Liverpool.
Moyes said: "Liverpool have had a level of finance which has allowed them to buy a different level of player."
But, on the eve of the 216th Merseyside derby, he insisted he was not jealous of his opposite number, Kenny Dalglish.
Moyes said: "I don't think I look with envy. I'm just stating facts. It has never been any different here."
Liverpool, backed by wealthy owner John W Henry, spent millions in the last two transfer windows on Andy Carroll, Luis Suarez, Jordan Henderson, Charlie Adam, Jose Enrique, Stewart Downing and Sebastian Coates.
Everton, in contrast, made four loan signings and brought in Apostolos Vellios for a nominal fee.
Moyes said: "Over the years we've tried to be competitive, tried to get as close to them as we can.
"We know it's a big rivalry in the city, and I'm aware of that, but most people are aware there have been differences over the years between Liverpool and Everton, and all of it has been financial.
"This time last year Liverpool weren't in great condition. They were maybe in a similar situation to us here where they were having to give money back to the banks.
"The supporters were quite restless at the time, but they've had new owners, a change of manager and brought in new players, so they have turned it around quite a lot.
"That's there for everybody to see and everybody knows that. At this present time we've not got the funds Liverpool have had given to them in the last year. That's given them a big help."
Moyes is resigned to the fact that things are not likely to change in the near future and added: "We have always worked within our means, and in many seasons the same things have happened and we've still always found a way of getting there, so hopefully we can do that again this year.
"It has been hard to get above Liverpool in the league table, and we have done everything we can to win as many derby games as we can, which has been tough.
"We've tried to be competitive against them, tried to hang onto their shirt tails, and at times try to get above them, but as I say, it's not been easy."
Moyes believes that with more cash they would pose more of a threat.
He said: "We got really close last year, and things have changed very quickly for Liverpool in that time.
"Last season we had a really good side at times. I think we showed that, although not come the end of the season because our league position wasn't good enough.
"But with a little bit of help then we could have been up there competing."