Arsenal boss Arsene Wenger wants to kickstart season at Spurs
Last updated on .From the section Football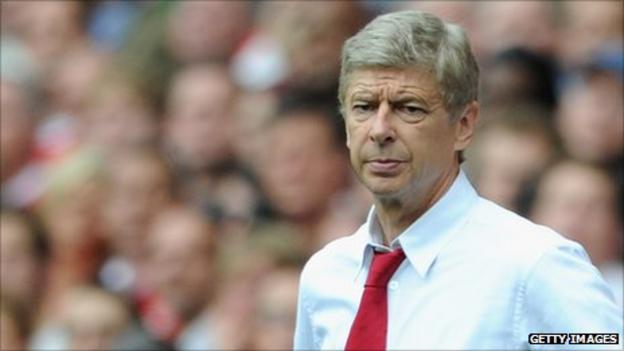 Arsene Wenger is hoping Sunday's north London derby against Tottenham can kickstart Arsenal's struggling season.
The Arsenal boss wants to mark his 15th anniversary in charge of the Gunners by proving they are still a major force.
Sunday's clash is vital for Wenger as Arsenal have only taken seven points from their first six matches.
"It's not like any other game. It is an opportunity for us to continue our way back to a more ambitious position in the League," he said.
"The fact that it is a derby makes it more difficult but it is more enjoyable. Fantastic. Both sets of fans are up for it."
There could be few better places to do that than in the frantic atmosphere of a packed White Hart Lane against an in-form Tottenham with former Arsenal striker Emmanuel Adebayor leading their attack.
When asked: 'How long did it take him to grasp the importance of the rivalry?', the Arsenal boss said: "Two days!" - recalling one of his first meetings with assistant Pat Rice.
"Because when you meet Pat, you realise the game is important. I didn't know that well what the north London derby was like before I arrived here," he added.
"But when you experience it it is different. In England you have some derbies that are really passionate; Tottenham-Arsenal, Liverpool-Everton, Man United-Man City."
Wenger is irritated by the criticism he and his team have attracted since the sales of Cesc Fabregas to Barcelona and Samir Nasri to Manchester City.
But with Theo Walcott likely to return after recovering from his injured knee and Gervinho (hamstring) facing a late fitness test and a Tottenham side packed with attacking intent, the derby could be a feast of attacking football.
Wenger said: "Maybe people expected us to crumble completely with the start that we had but they don't know us well enough. We have a very strong mentality in the team, we are highly focused and motivated and we are no fools.
"Tottenham are a good side and it could be a difficult game but it will be less difficult if we turn up with a great performance."
"Tottenham have always been direct rivals every year we have played them. They always have good teams. They had David Ginola and Teddy Sheringham. They had always great players.
"But we are only in October and the season finishes in May. Don't come to quick conclusions, there is a long way to go."