Hearts coach calls for consistency after Celtic win
Last updated on .From the section Football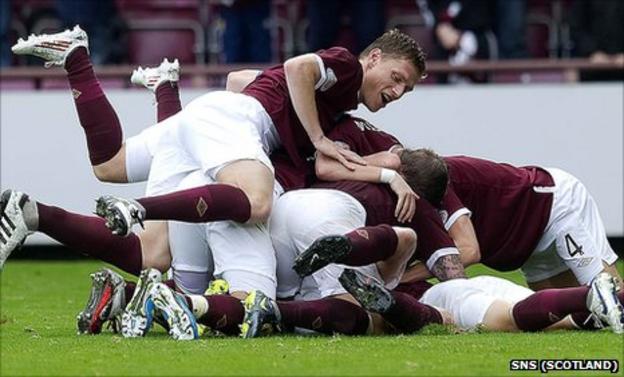 Having beaten Celtic 2-0 at Tynecastle, coach Gary Locke wants to see Hearts putting in the same effort every week.
"If we apply that type of commitment and that kind of attitude in every game then we'll win more games than we lose," Locke told BBC Radio Scotland.
"We were very disappointed with the way we played last weekend up at St Johnstone and we asked for a response.
"We need to get to a consistent level and if we play like that every week, everybody will be happy."
The victory takes Hearts up to fourth in the Scottish Premier League, four points behind second-placed Motherwell.
The first half was an evenly-matched contest, with both sides forging chances in the heavy Edinburgh rain.
But Celtic were on top after the break, only for Rudi Skacel to fire the hosts in front on 58 minutes and the visitors lost Kris Commons to a red card shortly after.
Ryan Stevenson sealed the win when he crashed in a shot from a counter-attack nine minutes from time.
"When you get a result against either of the Old Firm, the whole team has to perform," added Locke.
"And we had top performances from everyone right through the team.
"I'd find it difficult to pick anybody out - we have the philosophy here that we win as a team and we lose as a team."
Locke went on to praise manager Paulo Sergio, who replaced Jim Jefferies early in the season.
"He's fantastic to work with," explained the coach, who was also on Jefferies' staff. "He wants the ball played on the ground - he doesn't like it in the air.
"Obviously the conditions today made it a wee bit difficult to get the ball down and pass it but the commitment we had was there for all to see."
Striker David Templeton was involved in both of Hearts' goals.
He admitted that for the opener, when he appeared to lay off a looping Jamie Hamill cross with a deft touch for Skacel, it was more a case of poor control.
"I tried to bring it down and when I touched it [to the side] I went to turn myself and Rudi just came in," he said.
"It was a great strike by him."
There was intent, though, when Templeton raced past Stevenson and Mark Wilson to chase a ball that appeared to be going out of play and then expertly back-heeled it for his team-mate to score the decisive second.
"I knew Stevo didn't have the pace," he joked.
"I heard him shout 'behind you!' so I knew Wilson was quite tight to me. I managed to flick it back for him."
The club's owner, Vladimir Romanov, watched the action at Tynecastle and Templeton said his talk to the team in the meeting room before kick-off had helped the players.
"It is encouraging," he said. "He has a few words and tells us to go out and have a good performance and be on our toes."