Kettering Town fitness beyond a joke - Mark Stimson
Last updated on .From the section Football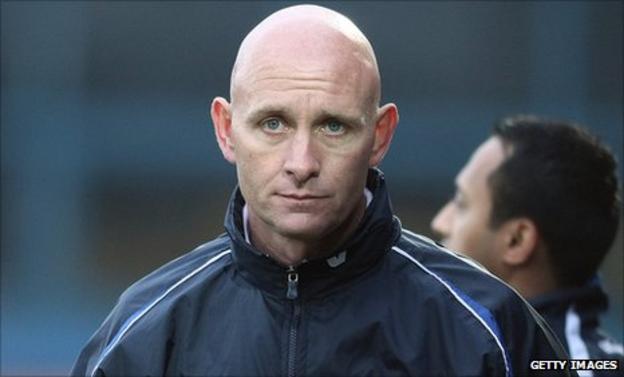 Kettering manager Mark Stimson says he is horrified by the fitness of the majority of his squad.
Stimson, who took over last month, transfer listed 11 players on Friday.
He told BBC Radio Northampton: "Some players who've been here since pre-season lacked quality and massive fitness levels, it's now beyond a joke.
"There's probably four players I'd keep (out of the inherited squad), if we want to do it my way, playing at a tempo, with the crowd jumping."
Stimson took over after Morell Maison, who was appointed in June, left his role after just seven league matches.
And following Saturday's 1-0 defeat by Kidderminster, the new boss said: "I said the ex-manager put a good squad together on paper, but paper wins you nothing.
"You have to do the hours and the leg work. There's no leg work been done here. You can tell that in every game. That's why there's so many niggles and injuries.
"They're not fit enough. They're at least three to six months away, especially when (they) haven't got the appetite to get fit. There's a lot of shifting to be done.
"There's some ground work to be done on the training pitch. They boys who played today will certainly do it. It would be nice to get a couple of others out there but I'd be amazed if they do because they know what's coming.
"We've not had a phone call yet but I'm not surprised. Hunger and desire are the biggest things at this level. If you've got quality, you won't be here long, you'll go up."
The 43-year-old continued: "You have to be able to physically run. No disrespect, I could still play out there like some of them but I wouldn't embarrass myself.
"We're still looking forward to the challenge. With the new players there's something developing. Now we hope and pray that other clubs come in for our boys. We need to free up funds. There's quality waiting."
Kettering handed starts to former Luton midfielder Stephen O'Leary and ex-Millwall striker Kiernan Hughes-Mason in the defeat to Kidderminster. Both had agreed non-contract terms.