Knowledge Musona sets Hoffenheim's Europe target
Last updated on .From the section Football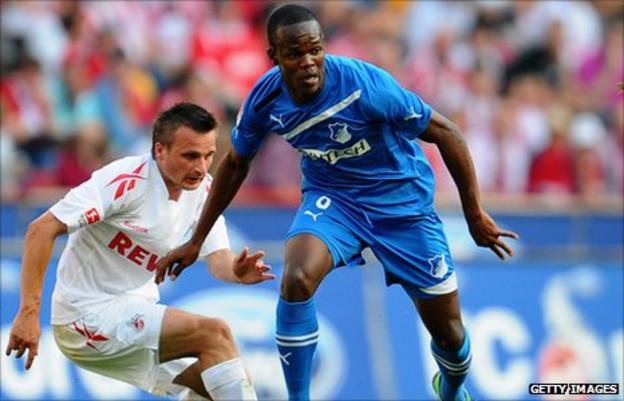 Zimbabwe striker Knowledge Musona is confident his goals can help Hoffenheim qualify for a European competition for the first time in their history.
The 21-year-old joined to the German side in August after moving from South African giants Kaizer Chiefs.
However, injury delayed his debut until last week when he came off the bench during their 3-1 win over Freiburg.
Musona believes Hoffenheim have enough quality to make it into European competition next season.
"We've had a good start and if we keep working hard then there is nothing that can stop us from doing very well," said the striker, who finished as top scorer in South Africa's top-flight last season.
"I was very happy to get a victory in my first game in the Bundesliga. The atmosphere was amazing and it is the same whenever we play - the stadium is always full.
"But it's important to keep our heads up if we lose matches and try to keep fighting until the end. If we do that, then I don't see why we can't make it to Europe."
Having joined for around $2m, Musona picked up his injury on only his second day at his new club.
But he returned to training sooner than had been anticipated and has even started learning German thanks to lessons provided by Hoffenheim.
"I'm picking up some words but it's not easy," he said.
"We can communicate in English sometimes but I think it's up to me to try only to speak German as much as possible.
"I'm living in Germany now and part of being here is that you learn the language so you get to know your team-mates.
"I met everyone in pre-season in Austria and the coaches and players gave me a great reception - I was so happy. Now it already feels like I have been here for years."
After the visit of Bayern Munich in the Bundesliga on Saturday, the Harare-born striker will be part of the Zimbabwe squad to travel to Cape Verde for the final round of African Nations Cup qualifying.
The Warriors have not made it to the finals since 2006 and currently trail leaders Mali by a single point, with The Eagles also facing a tricky assignment in Liberia.
"It's a must-win game," admitted Musona.
"We have to prepare ourselves physically and mentally to try and get the maximum points because we need it to qualify for the finals.
It's very, very important we can make it because it has been such a long time since we qualified - it would be history in the making for us.
"We have a young team of stars who have been together for a long time so I think we can be a new dream team for Zimbabwe."
That kind of ambition will only be matched at Hoffenheim, who rose from the regional leagues to the German top-flight for the first time in 2008. Now Musona hopes he can be part of the next chapter in their history.
"Everything has happened so quickly for me - I spent two years in South Africa and now I am in Germany," he concluded.
"Now I need to get more game time at Hoffenheim and show I can compete at this level."