Table-toppers Bayern Munich given Oktoberfest treat
Last updated on .From the section Football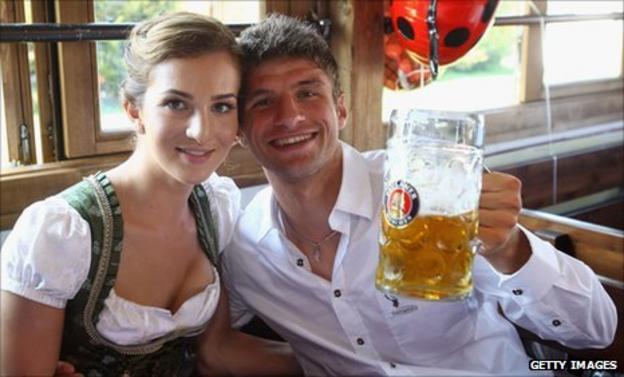 As a reward for winning 10 of their last 11 matches Bayern Munich's players were afforded the treat of a visit to the city's world famous Oktoberfest on Sunday.
Despite being held to a goalless draw on Saturday by Hoffenheim, Bayern are three points clear at the top of the German Bundesliga.
Arjen Robben, Thomas Mueller and captain Philipp Lahm were among the Bayern players enjoying the beer, music and lederhosen at the festival, which attracts more than six million people to Bavaria every year.
Manager Jupp Heynckes, who also attended the carnival, said he trusted his players to behave in a professional manner at the event which serves more than seven million litres of beer during its two week duration.
The 66-year-old, who won the Champions League with Real Madrid in 1998 said: "The players deserve it. They are absolutely professional. They know exactly what they can do and what they shouldn't do."
Bayern are seeking to regain the Bundesliga title they relinquished to Borussia Dortmund last season. They have won six of their eight league games, including a 7-0 win against Freiburg.
They have also won their opening two Champions League group stage matches against Villarreal and Manchester City. Goalkeeper Manuel Neuer has not let a goal past him for 1,018 minutes, breaking the previous club record of Oliver Kahn by five minutes and counting.
"We worked hard in the last weeks and months - you're allowed reward yourself from time to time," said Lahm.