Carlos Tevez meets Manchester City officials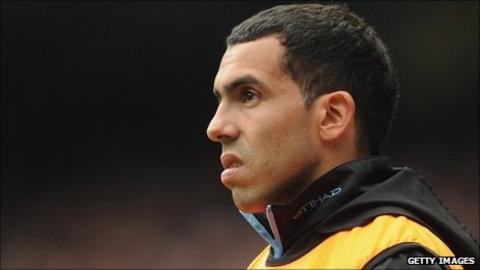 Manchester City's Carlos Tevez met club officials on Monday as part of the investigation into his alleged refusal to play against Bayern Munich.
The striker was suspended for two weeks after City boss Roberto Mancini claimed he would not play as a substitute in their Champions League game last week.
Mancini said the Argentine, 27, was finished at City but Tevez maintains the matter was a "misunderstanding".
The investigation is expected to be concluded in the course of the week.
City's human resources and legal teams were involved in the interview and the club has more people to speak to as they seek to ensure their position is legally watertight.
Mancini claimed Tevez had ignored his orders by failing to come on as a substitute in the 2-0 defeat by Bayern in their Group A match.
Tevez initially said: "I didn't feel I was right to play, so I didn't", but later said the situation arose because of "confusion on the bench".
The forward, who is on full pay, is not allowed to train with or play for City until 12 October, when his two-week suspension ends.
Due to the international break, Manchester City's next game is on Saturday, 15 October, when Aston Villa visit Etihad Stadium.