Cardiff City chief executive Gethin Jenkins to depart
Last updated on .From the section Football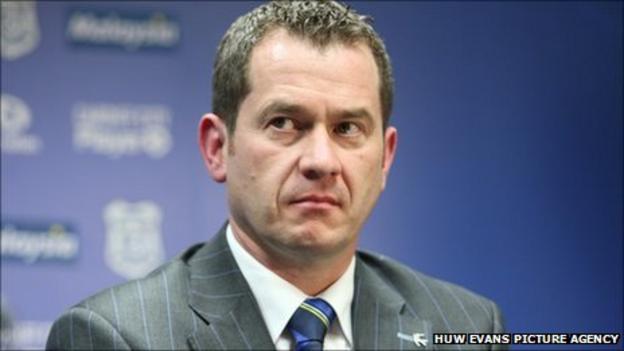 Cardiff City have announced that chief executive Gethin Jenkins will leave his post following "discussions with the Malaysian investors".
Chairman Dato Chan said the decision does not "reflect any failure" in Jenkins' work over the past 18 months.
"He should be proud of what he has achieved here and we wish him well for the future," added Chan.
Jenkins, who will depart on 22 October, said the club is in better shape now that when he was appointed in May 2010.
"I thank TG [chairman Dato Chan] for his comments and the board for giving me the opportunity to represent Cardiff City which I have been proud to do," he said in a statement.
"With the staff here, I think we have achieved a lot in the past 18 months including far better structure and stability within the club.
"I would like to thank the supporters, sponsors and especially the staff, coaches and players for supporting me during my time here and for embracing the changes we have made.
"Ultimately football is about opinions and I accept that, however, I am confident the club is in a far better position than 18 months ago.
"I wish all involved with the Club the very best for the future and hopefully the realisation of the dream of Premier League football."
Jenkins was appointed chief executive shortly before Chan took over as chairman when a consortium of Malaysian businessmen took over the financially troubled club.
A year later, Jenkins oversaw the recruitment process which led to Malky Mackay's appointment as manager following the sacking of Dave Jones as manager.
"We would like to the thank Gethin for his unstinting work and commitment to Cardiff City during the past 18 months and it should be stressed that this agreement does not reflect any failure in the amount of effort he has given to the Club or his performance as chief executive," added Chan in a statement on Cardiff's website.
"Indeed while he has been in charge the club has seen the introduction of far more process and structure including greater budgeting and cost control, staff restructuring, a large increase in commercial turnover, winning family club of the year, the highest average gate in 50 years and bringing stability during the turbulent times last summer."
Cardiff say they will review their options before deciding on Jenkins' successor, adding that Chan and directors Alan Whiteley and Doug Lee will take on a more "hands-on role" in the meantime.