McGarvey blames Celtic board for club's slump in form
Last updated on .From the section Football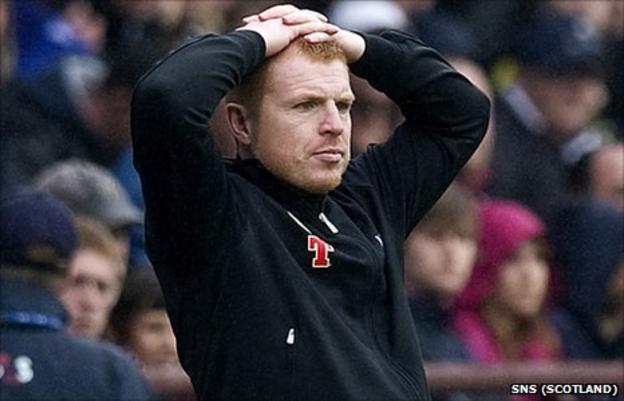 Former Celtic hero Frank McGarvey believes the club's dip in form is down to a lack of support from the board.
McGarvey told the BBC that he feels manager Neil Lennon was not supported during the summer transfer window by chief executive Peter Lawwell.
"I think Neil has done well, but I think he's been undermined over the summer by Lawwell," said McGarvey.
"Lennon wanted to get a few players in, but Celtic wouldn't push the boat out. So I think he's been undermined."
McGarvey's comments came in the wake of Celtic's 2-0 defeat by Hearts at Tynecastle in the Scottish Premier League on Sunday - the club's third defeat in nine matches since the start of the season.
The loss kept Celtic in third place behind Motherwell and 10 points off league leaders Rangers, albeit with a game in hand, and McGarvey believes recent events and results are taking their toll on the manager.
"I have to say that Sunday was the first sign I've seen of Neil Lennon ageing," said McGarvey. "He looked very stressed, and that's a worry.
"I think there was a lot of injury problems on Sunday - the whole midfield was out with Brown, Kayal, Ledley, Wilson and Izaguirre missing - so he has been hit by injuries, but he has quite a good squad.
"They've lost three games already and it's only October, yet, last season, they only lost four games the whole season, so something not right.
"Celtic had chances to win that game on Sunday and they didn't take them."
The former St Mirren and Celtic striker feels part of the problem could be a general decline in the overall quality of Scottish football, which is causing fans to stay away from matches.
"You've got to look at the standard of Scottish football now," said McGarvey.
"I watched Hearts against Celtic, then Spurs versus Arsenal - and that was a fantastic game, full of quality - the Scottish game is not as good a standard that it was - I've never seen it as bad.
"Even last week, the Celtic Udinese game, the stands were one third full and in a big European game, I've never seen that.
"Things are not good in Scottish football."