Blackburn boss Steve Kean needs more time - Alan Shearer
Last updated on .From the section Football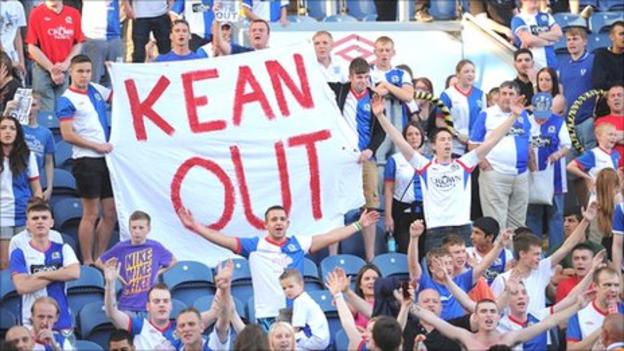 Former Blackburn striker Alan Shearer believes the club should give manager Steve Kean more time to turn around their fortunes.
Rovers are second bottom of the Premier League having lost five of their seven matches in the competition this season.
But Shearer told BBC Sport: "He's [Kean] the same manager who was there last season and we are only seven or eight games in to the new one.
"You don't become a bad manager in that space of time."
Kean guided Blackburn to a 15th-place finish in the Premier League last season having taken over as caretaker boss when Sam Allardyce was sacked in December 2010.
In January this year, he signed a new deal with the club to keep him as manager until June 2013.
However, this season they have earned only four points from seven matches, courtesy of a home win over Arsenal and a draw at Fulham, and fans have reacted badly to the poor start, with large sections of the crowd calling for Kean to be sacked after Saturday's 4-0 defeat by Manchester City at Ewood Park.
Kean has insisted he will not resign, but Shearer admits it is a difficult state of affairs for the 44-year-old former Fulham, Real Socieded and Coventry assistant manager.
"The fans are unhappy and it is a tough situation for him to be in. They haven't got the points that everyone would have hoped," conceded Shearer, who scored 130 goals in 171 appearances for Rovers between 1992 and 1996, winning the Premier League in 1995.
"He's having a tough time and he needs results ASAP, just like any other manager does. It's a tough situation and he needs to win games. He hasn't, which is why he is under pressure. He will have known that when he took the job though."
This week, Rovers, who were bought by Indian poultry firm Venky's last year, will travel to their owner's home country, having seen their initial plans to visit there in July cancelled due to terrorist bombings in Mumbai.
Shearer questioned the wisdom of such a trip considering their poor start to the campaign.
"I don't know what they are using it for, whether it is for a break or to play games or whatever but it is not ideal to be flying there when you are in their position and have got a free week without games [during the international break]," added Shearer.
"They would be better staying here to try to sort their problems out."