Niall Quinn steps down as Sunderland chairman
Last updated on .From the section Football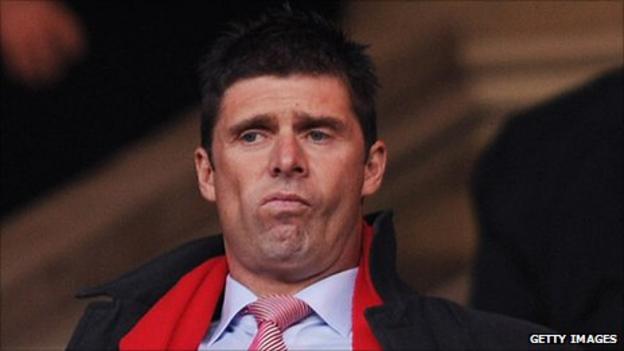 Niall Quinn is leaving his role as chairman at Sunderland to take charge of "international development".
Owner Ellis Short will take over as chairman while Quinn focuses on the club's business interests overseas.
Discussing Short, Quinn said: "He'll be a fantastic chairman and taking this role on speaks volumes about his ambition for the club."
Short said: "I can assure our fans that it's the same group of people continuing to lead the club."
He added: "With financial fair play rules coming into effect, it is essential for the long-term success of the club that we develop interests on a global scale and there's no one better than Niall to sell the ethos of Sunderland to an international audience.
"He has been keen to drive this change for some time and I agree that it's the way forward for us now.
"Assuming the position of chairman is a great honour and I will treat the role as guardian of this club with the utmost respect."
Quinn has been linked with the vacant chief executive role at his former club Manchester City recently.
He added to Sunderland's official website: "This is a great opportunity for us to make the club stronger and I'm delighted that Ellis has agreed to support the plan."
Sunderland chief executive Margaret Byrne added: "Niall is widely known and hugely respected throughout the world of football.
"His profile, coupled with his vast knowledge of the game and the business, means he is perfectly placed to bring Sunderland to the forefront internationally.
"This new challenge begins immediately as he represents the club at the prestigious Leaders in Football conference in London this week, after which he travels to Korea with [manager] Steve Bruce and Mike Farnan, international marketing director.
"Trips to territories such as Vietnam, India, Abu Dhabi and Africa are also taking place in the coming months."