Managerial changes cost clubs £99m last season, says LMA
By Ian Dennis
BBC senior football reporter
Last updated on .From the section Football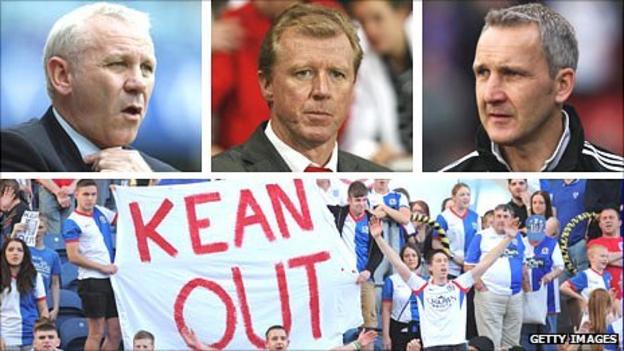 Premier League and Football League clubs spent almost £100m changing their manager last season.
According to figures released to the BBC by the League Managers Association (LMA), the cost of compensation, legal fees and 'double contracts' amounted to £99m.
A 'double contract' is when a sacked manager's contract is honoured until a certain point in time but his replacement also requires a salary.
October is traditionally the month when clubs begin sacking their managers. Between October 2010 and February 2011, 25 clubs opted for that course of action.
Several managers have already lost their job this season, including Peter Reid, who was sacked by League Two Plymouth Argyle last week.
Keith Millen left Bristol City on Monday with the club bottom of the Championship, while Steve McClaren departed Nottingham Forest on Sunday, resigning after only 112 days in charge.
The figure of £99m would have been higher had agents fees and the cost of sacking and replacing a manager's backroom team been taken into account.
According to the LMA, which represents managers in the Premier League and Football League, more than 100 coaches also lost their jobs last season.
Reid, who was in charge of Plymouth at a time when the club were battling to avoid administration, was on BBC Radio 5 live to discuss the issue.
He said: "Chairman and owners need to be more realistic about their expectations.
"Certainly in the Championship where they're all trying to get to the Holy Grail and that's the Premiership. There needs to be a bit of realism."
Reid was joined by LMA chief executive Richard Bevan, who believes managers are not being given enough time to prove themselves.
"We want to move away from managers being judged on their last three results," Bevan said.
"In fact, when results take a downturn that is when the club should support its manager even more, not jump for the quick fix."
Sir Alex Ferguson, who has been in charge of Manchester United for almost 25 years, agrees.
"It's always a problem in modern-day management," said the 69-year-old Scot. "You see time and time again that these guys are only in a position a year before the clubs are sacking them."
According to the LMA, Championship managers who were sacked in 2010-11 had an average tenure of less than a year.
The average was 1.33 years in League 2, 1.67 years in League 1 and 2.07 years in the Premier League.
The average length of time it takes a sacked manager to get another job is currently 1.63 years. Almost half of first-time managers are never appointed to a second management position.