Chelsea chairman says Roman Abramovich will not profit from move
Last updated on .From the section Football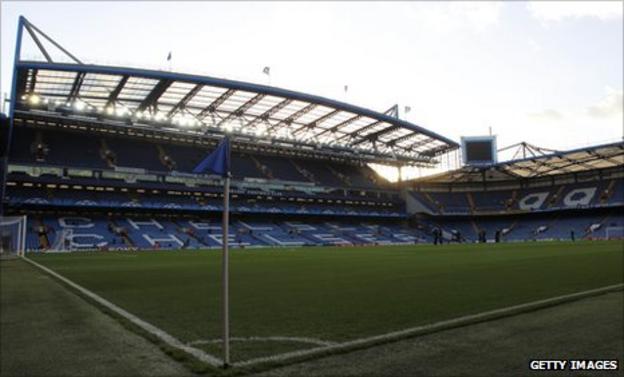 Chelsea chairman Bruce Buck has said owner Roman Abramovich does not stand to gain financially from any possible move away from Stamford Bridge.
Chelsea have made a bid to buy back parts of Stamford Bridge sold to supporters in 1993 in what is seen as a precursor to a move to a new ground.
Buck told Chelsea TV: "A new stadium of 55,000 to 60,000 seats would cost in the region of £450m.
"There is no possibility for Mr Abramovich to make any money."
The club is still to decide whether to move, but cannot do so unless it regains ownership of the stadium's pitch and stands.
They are owned by Chelsea Pitch Owners - formed in 1993 to prevent the ground being bought by property developers.
Buck said that on top of costs to build a new stadium, the purchase of land would raise the total needed to around £500-£550m.
"The profit on the redevelopment of Stamford Bridge would be maybe a third of that amount, and money from other sources such as Mr Abramovich and banks would be needed to move to another location.
"The profits would be an important component of the funds should we would need them, so it would not be possible to do it without taking that redevelopment money.
"I don't know how much money Mr Abramovich has. He has invested £800m into this club, and no matter how much he has he must notice he has invested £800m.
"A figure of £500m for a new stadium is a lot of money no matter who you are, and the decision has been made that we're not going to move to another stadium unless we can take the proceeds of a redevelopment of Stamford Bridge towards it."
Buck and chief executive Ron Gourlay have appealed to the 12,000 shareholders, who are mostly fans, to sell their 15,000 shares to the club for the price they paid in return for various incentives at any new stadium.
Each share cost £100 and Chelsea are hopeful they would not be held to ransom, insisting there was no room for negotiation.
Buck said shareholders were getting back far more than the land was worth when the 199-year lease on Stamford Bridge was taken into account.
The incentives for selling include a guarantee that Chelsea would only relocate within a three-mile radius of Stamford Bridge if the club did decide to move before 2020.
Buck added that the views of Chelsea fans would be taken into account when deciding the site of a potential new stadium.
"You have to respect the fact that Mr Abramovich is a Chelsea fan and it would not make sense to move the stadium to somewhere that was not to the satisfaction of the bulk of Chelsea fans," he said.
A decision on the bid is expected at a Chelsea Pitch Owners' general meeting on 27 October.
Buck confirmed the club would allow fans opposed to the proposal to hand out leaflets at Saturday's game at home to Everton.
"If there are leaflets handed out, OK, I believe in free speech and as long as there is compliance with the safety and security regulations we have at the ground on matchdays then free speech is what life is all about."