Blackburn owners Venky's to discuss next step with Kean
Last updated on .From the section Football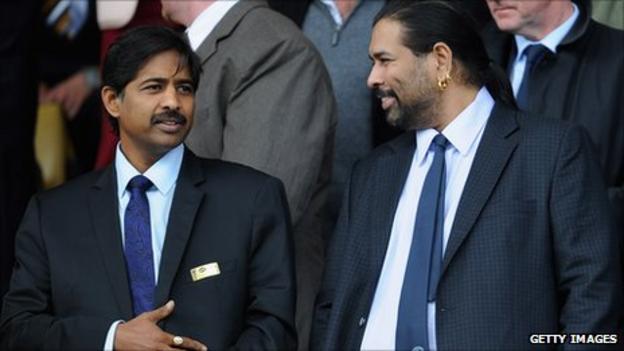 Blackburn's Indian owners say they will come up with a "plan of action" this week, following the club's poor start to the season.
Manager Steve Kean is under pressure with Blackburn in 19th place in the Premier League.
Co-owner Venkatesh Rao told Sky Sports News: "I have spoken with Steve and we are working on our weak points.
"We are going to sit this weekend and we are going to have a very big discussion over this."
Kean was installed as a replacement for Sam Allardyce last November, shortly after Rao, brother Balaji Rao and sister Anuradha Desai bought the club, via their poultry firm Venky's.
Blackburn, who have lost five of their opening seven Premier League games, are in India this week on tour during the international break.
During and after Saturday's 4-0 defeat by Manchester City at Ewood Park, a section of Rovers fans loudly voiced their dissatisfaction with the manager and held up banners reading "Kean Out".
Rao stressed the importance of the Blackburn supporters making their opinions known about the club's plight.
He continued: "I'm sure we are going into the depth of it and believe me, myself, my sister and my brother, all of us are going to sit and have a long, long chat and come out with some plan of action.
"It is like a family and we should know totally what the fans feel about it.
"It is an open interaction, so that we know exactly where we are going wrong, where we are doing good and where we can improve ourselves."
Rao admitted the owners must take some of the blame for what has happened, but was keen to emphasise their commitment to Blackburn and determination to succeed "at any cost".
He added: "We treat the club as a family and work as a family.
"We want to see this club running successfully at any cost - whether the value is by time, money, expressions or feelings.
"I think we are going to be here for a long time and we are going to see the club be very successful with the help of the entire team. We are there to stay and serve the fans.
"The responsibility is not just on the club - it is ours also and we are equally disappointed, not with the players or anybody, but with ourselves.
"We promise the fans that we will deliver results by hook or by crook.
"I would ask to kindly bear with us for some time, because the conclusion will be good."