Kyle Bartley targets Liverpool game for Rangers return
Last updated on .From the section Football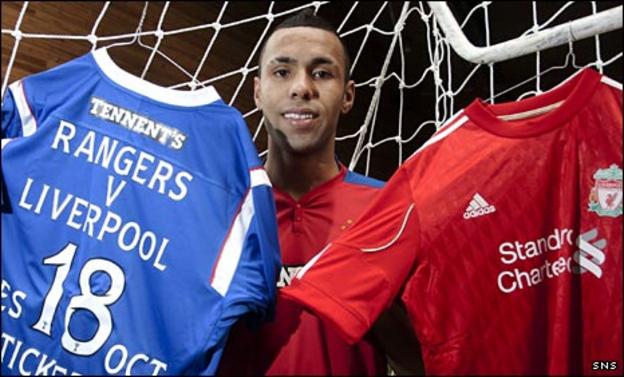 Kyle Bartley hopes to be fit in time for Rangers' friendly with Liverpool and is willing to play in any position to win a place in the team.
The defender on loan from Arsenal has been out of action since August after a hernia operation.
But Rangers have since signed Carlos Bocanegra, who has established a partnership with Dorin Goian.
"If I have to play a different position to get my place back, so be it," the 20-year-old Bartley told BBC Scotland.
He will also face competition from David Weir, the 41-year-old Rangers captain and centre-half who has himself just returned from injury and is hoping to win his place back with the Scottish Premier League leaders.
"I am a keen player, the team's been doing well, the defence has been doing well," said Bartley.
"I said when I first came here, I wasn't going to start the first few games, but I came into the midfield and did well and stayed in the team."
Bartley is in his second spell at Ibrox, having impressed in both midfield and defence before his stay was cut short last season because of a knee injury.
He believes he is a week or so away from full fitness but hopes that he may get some game time against Liverpool in a freshly-arranged friendly on 18 October at Ibrox.
"Obviously I'm a couple of weeks away," added Bartley.
"I won't be back to full fitness in the next week or so, but hopefully by then I should be able to play.
"I think the game can benefit us.
"We obviously went out of Europe, which was a massive of disappointment, but I think playing someone like Liverpool will be a great test."