Accrington match called off after Tom Bender head injury
By Karen Fazackerley
BBC Sport
Last updated on .From the section Football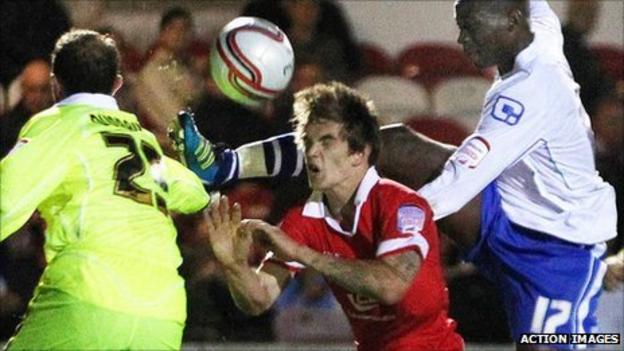 Accrington's Tom Bender has been released from hospital after suffering a head injury that forced a cup match against Tranmere to be abandoned.
The defender, 18, was knocked out in a collision with two other players in the Johnstone's Paint Trophy tie.
He was treated for 30 minutes on the pitch, with players ushered away as he was given oxygen and put on a drip.
Bender regained consciousness in hospital and has been diagnosed with severe concussion.
Tranmere were leading 2-1 in the second round match when Bender was injured in the 39th minute after colliding with Accrington goalkeeper Ian Dunbavin and Tranmere's Lucas Akins.
Players were sent to the dressing room while he was being treated on the Crown Ground pitch, and shortly after the match was abandoned.
Bender was taken to the Royal Blackburn Hospital where he underwent a brain scan.
The Wales under-21 international, who had made just four first-team club appearances in his career prior to Tuesday's game, is on a season-long loan deal from Colchester.
Accrington chief executive Rob Heys told BBC Sport: "Both sets of players were shaken by the incident so we took the decision to call the game off. It's only a natural reaction when you see a player stay down for so long.
"It's something I never want to see again at Accrington. It was extremely distressing for everyone who witnessed it.
"Tom's team-mates have been able to visit him which has made him feel a lot better.
"He apologised because the medics had to cut off his socks. But he still doesn't remember anything that happened during the game.
"Tom has now been released from hospital and he will spend the next few days in Colchester with his family. He is already keen to get back playing as soon as possible and we hope to have him back at Accrington in the not too distant future."
Heys added: "I have to give fantastic credit to both Accrington and in particular Tranmere fans as they never complained when we called the game off."
John Coleman, manager of League Two club Accrington, told BBC Sport: "Their striker was trying to get the ball. He was eager and it led to Tom's momentum going onto a full-blooded punch from Bavs.
"It was like double the force and the fact Tom didn't move when he hit the floor was a concern.
"The lads immediately knew something was wrong and waved the physio over straight away.
"You like to see how your player is with your own eyes and he seems to be in good spirits now."
Tranmere boss Les Parry added: "It's a game of football and when someone's health is involved that's got to take precedence."
Stanley had taken the lead in the ninth minute when Kevin McIntyre's cross was turned into his own goal by Zoumana Bakayogo but League One side Tranmere came back with goals from Ash Taylor and Mustafa Tirkyaka, before play was halted.
Accrington Stanley said on the club's official Twitter account that the game had been abandoned due to a "serious injury" to Bender.
Also writing on Twitter, former Wales international Robbie Savage said: "Hope young Tom Bender is going to be ok. My thoughts are with him and [his] family."