Uefa opens investigation into Bulgaria-England qualifier
Last updated on .From the section Football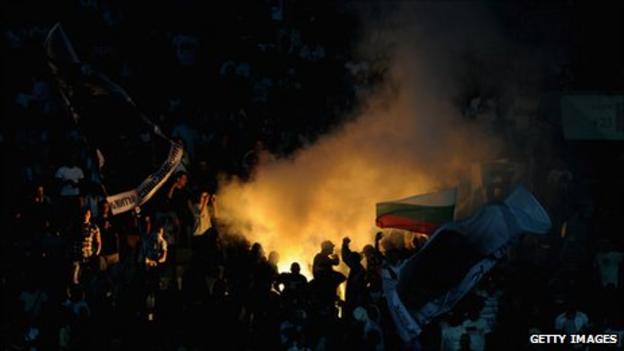 Uefa has begun disciplinary proceedings against the Bulgarian Football Union (BFU) regarding events at last month's game between Bulgaria and England.
European football's governing body expects to take a decision on any potential punishment by 15 October.
"A hearing will be held on 13 October and, after completion of the paperwork, a verdict will be announced," a Uefa spokeswoman told BBC Sport.
England's Ashley Young was alleged to be a victim of racist abuse during the game in Sofia. The Football Association (FA) reported the behaviour of a section of home supporters to the Uefa match delegate after the visitors' 3-0 win.
The Uefa spokeswoman said the BFU is "facing a charge relating to discriminatory chanting" and added: "They also face a charge relating to the fireworks."
Between now and 13 October, communication will take place between the relevant parties before Uefa decides on what action, if any, to take.
The case, which will be heard by its control and disciplinary body, could lead to a fine for Bulgaria. Additional sanctions can be imposed if the offence is deemed severe enough.
In 2008, the Croatian Football Federation was fined £15,000 for supporters' racist behaviour directed at England striker Emile Heskey.