Abusive Adebayor chants anger shot Togo goalkeeper
Last updated on .From the section Football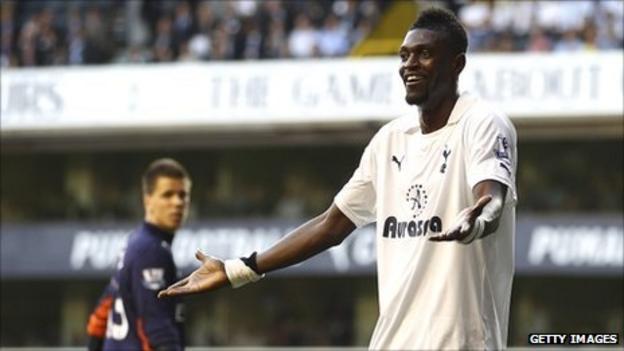 The Togo goalkeeper, whose career was ended after he was shot, has called for fans guilty of abusive chanting at the north London derby to be punished.
"By chanting that stuff it's as if they're condoning terrorism," Kodjovi Obilale told the World Football show.
"I was hurt on that bus. Those people should be severely punished."
He continued: "It's very bad, they went too far. People lost their lives. We're talking about a loss of life. I don't even know what Adebayor has done wrong. He plays football that's all."
Obilale was shot twice in the back during a machine gun attack on the Togo bus as it crossed from the Republic of Congo into Angola on 8 January 2010, two days before the start of the Africa Cup of Nations.
Two members of the Togo party were killed in the attack.
Tottenham have promised to ban fans guilty of offensive chanting during Sunday's derby victory over Arsenal.
Spurs managers Harry Redknapp and Arsenal counterpart Arsene Wenger have both condemned abusive chanting from fans during Spurs' 2-1 win.
Obilale added: "I don't think Arsenal should be punished. But they should carry out an investigation and suspend those involved. If you let them get away with this, it'll just degenerate further."
Redknapp and Wenger were also targeted for insults by sections of the crowd.
Tottenham have said several fans from both the home and away sections of the crowd were ejected from White Hart Lane during the game.