Blackburn Rovers boss Steve Kean insists meeting with owners is routine
Last updated on .From the section Football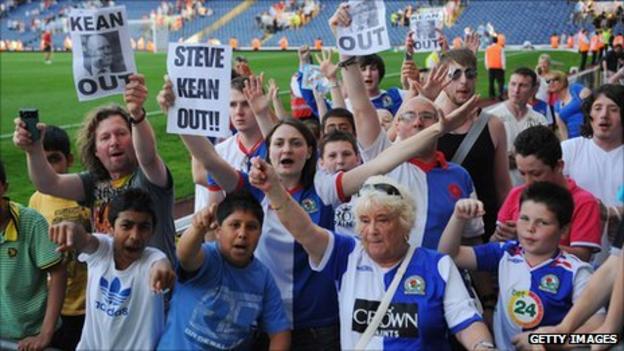 Blackburn Rovers manager Steve Kean says his meeting with the club's owners in India is a routine one and not prompted by calls for his dismissal.
"People will say I've been summoned but I've heard that on my last six or seven trips," Kean told Sky Sports News.
"We always have a sit down and a talk," he added.
"I come here once a month to sit down with the family and talk about all aspects of the club and the games, the development of the younger players, the integration of the new players, what we want to do in the next transfer window, the funding of that.
"We speak about all aspects and what I will be doing is exactly what I normally do - going through all that."
The club just avoided relegation from the top flight last season after Kean took over as manager in December 2010 following Sam Allardyce's departure.
This season, Kean's side sit just one place above the foot of the Premier League table after losing five of their opening seven games.
Fans protested outside Ewood Park before the 4-3 victory over Arsenal last month and voiced their feelings again during Saturday's home 4-0 defeat by Manchester City - this time inside the ground.
Banners were unveiled and chants of "Kean out" echoed around the ground as Roberto Mancini's men ran riot.
However, the Scot has vowed to battle on as Rovers boss despite calls from supporters for him to be axed.
"It can get to you but not for one minute [do I doubt myself]," he said.
"When I go on the training ground and see the lads responding, and get the backing of the family and the majority of the fans, then I am happy in my work and as long as I feel that we will turn things around.
"I have no doubt about that."
Meanwhile, Kean expects to have a new assistant manager in place by the time Blackburn's next Premier League game takes place on 15 October against QPR.
John Jensen left the post recently and Kean revealed his successor is already being sought.
"We've made a little bit of progress and spoken to a few people," Kean said.
"I've received a few CVs and lots of calls. I have spoken with the family at length and the person I want to come in will be the person who will be sat in the dugout beside me, so that's very positive."