Man City striker Carlos Tevez misinterpreted over 'refusal' to play
By David Ornstein
BBC Sport at Leaders in Football, Stamford Bridge
Last updated on .From the section Football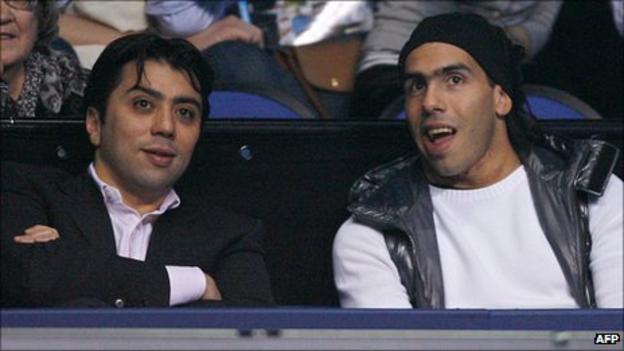 Carlos Tevez was mistranslated in an interview that contributed to him being suspended by Manchester City, claims his adviser Kia Joorabchian.
After the match a club translator quoted Tevez as saying: "I didn't feel right to play so I didn't."
But Joorabchian insisted that "the interpretation was incorrect".
He reiterated that Tevez refused only to warm up and added: "He feels he has been judged and condemned before the case has really been looked in to."
Tevez met City officials on Monday as part of an investigation into the incident before flying to Buenos Aires with the club's permission.
He is expected back in Manchester on Wednesday 12 October and is due to return to training a day later.
The 27-year-old blamed "confusion on the bench" for the "misunderstanding" in Germany and felt there was no reason why he should apologise to City manager Roberto Mancini.
Speaking at the Leaders in Football conference, Joorabchian suggested language problems might have been to blame in the post-match interview.
"Carlos does speak English but his English is not good enough to host a full-blown interview," stated the Iranian-born businessman.
"I listened to the questions in English and the interpretations in Spanish. Both questions were interpreted incorrectly and both answers of Carlos were then misinterpreted."
Tevez was signed by then City manager Mark Hughes in the summer of 2009 and has since scored 53 goals in 91 appearances.
In May, he captained the club to the FA Cup with a 1-0 victory over Stoke in the final at Wembley, their first major trophy in 35 years.
However, he has also twice asked for a transfer away from Eastlands and looked set to get his wish before a proposed £40m move to Brazilian side Corinthians fell through.
He has made five appearances for City this season but only two starts and is yet to score.
Hughes - who is also represented by Joorabchian - struggles to see a way for Tevez to return to the City side.
Hughes told BBC Sport: "I think it would be very, very difficult [for Tevez to return].
"The assumption is that Carlos refused to come on to the field of play. Let's hope it is [clarified in the next few days] - one way or the other - because it's damaging to Man City, to their manager and to Carlos Tevez.
"A lot of things were said but there are not too many options [for him] if things are proved to be correct.
"It's a shame because we don't want top players to leave the Premier League, but if it's borne out that the things suggested are correct, it will be very hard to see any other outcome."
However Joorabchian believes Tevez has always acted professionally and is keen to play football.
"You can criticise Carlos for anything but one thing you can't criticise him for is his commitment when he's on the pitch and you can never criticise him for wanting to play," Joorabchian added.
"There have been several times at Manchester City throughout his two-year career where he is taking injections, playing with swollen ankles, where he has played in situations when maybe even doctors have told him not to play.
"My opinion is that Carlos throughout his career has been one that fights to play. If there is any issues it's because he's always so eager to play.
"You have to remember Carlos joined Manchester City when he had an official offer from Real Madrid and Manchester United on the table.
"He was one of the first players to join Manchester City's new vision. It's a great vision and Carlos was brought in to help start that vision.
"So he feels very differently towards the club, he has a very intense feeling."