Chris Sutton tells current Celtic side to 'stand up'
Last updated on .From the section Football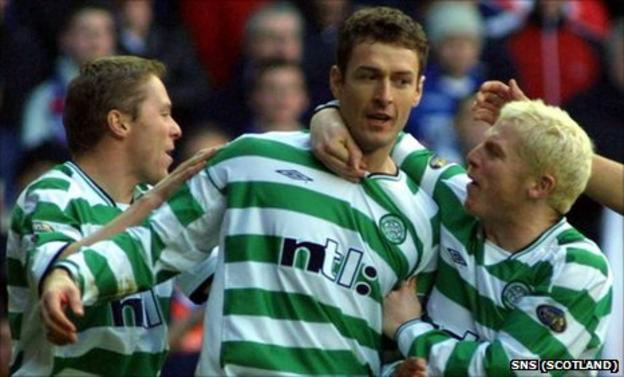 Former Celtic striker Chris Sutton believes the current squad need to show character to turn their season around.
Sutton, a former team-mate of Celtic manager Neil Lennon, watched the side lose at Hearts on Sunday and slip 10 points behind league leaders Rangers.
"Neil is doing his job. He'll get the players fired up," said Sutton.
"The players need to get a grip and between themselves work it out. It's about time people stood up, as Neil did as a player, and back the manager."
Lennon and Sutton were part of successful Celtic sides during Martin O'Neill's spell as manager and he feels the team have to show Lennon's type of commitment.
"I know what Neil was like as a player," said Sutton. "I know he expected the highest standards as a player and he will as a manager.
"The problem he has as a manager is that he's asking people to do things and at the moment they're just coming up a little bit short.
"Celtic just have to believe. I went to the game on Sunday, the fans are totally behind Neil.
"You can't tell me that Neil doesn't go through virtually every minute of the day thinking about solutions, how to get things right and what his best team is.
"He'll toy with ideas, he'll have an impression before the game on how he wants the team to play and sometimes it just doesn't materialise and that was the case on Sunday."
Sutton believes it's "very early days" to be talking about a change in management at Celtic and also feels Scottish Premier League leaders Rangers have their vulnerabilities.
"Rangers aren't the strongest side they've ever been, far from it," said the former striker. "That's just my opinion. They've got frailties.
"They've had a fantastic start to the season league-wise but I still think they're fragile. If they lose a couple of players with injuries, the likes of [Nikica] Jelavic, then they'll go through difficult times.
"There's a 10-point gap at the moment. It's bridgeable, there's 30-odd games left. Celtic have a few things in their favour. They're due players back from injury, major players.
"Celtic just need to get on a run, the sooner they do it the better.
"They should be wanting more out of each other and dragging more out of each other. If they do that I'm sure they can bounce back."
Sutton's brother John joined Hearts from Motherwell in the summer but has fallen out of favour since Tynecastle manager Jim Jefferies was replaced by Paulo Sergio.
"I speak to John fairly regularly," added older brother Chris. "I think he's had a bit of a raw deal in all honesty.
"He came in under Jim Jefferies. I'm only looking at things from afar. It was a surprise to me when he got the sack.
"As is the case with new managers, sometimes your face doesn't fit.
"But I don't really see he's don a lot wrong. He had a good season last season, an exceptional season. I think he's disappointed but he's not one to be moody and get his head down like his older brother.
"He's happy living in Edinburgh but he wants to play football like all players do."