Pressure point for Montenegro
By Andy Brassell
European football expert
Last updated on .From the section Football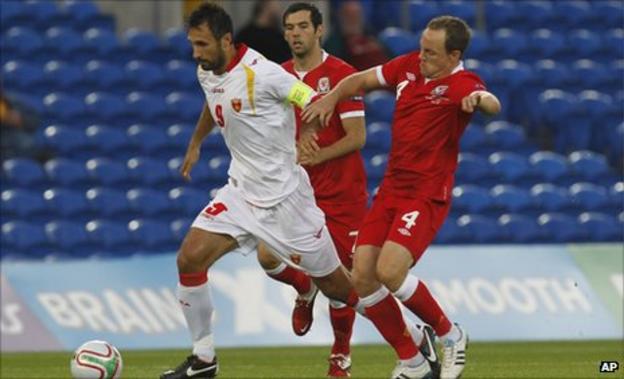 Considering it was granted full Uefa membership just four-and-a-half years ago and recognised as a football nation by Fifa as recently as May 2007, Montenegro have come a long way to stand where they are.
On the eve of a final brace of qualifiers against England and Switzerland, Branko Brnovic's side have a very decent chance of qualifying for Euro 2012.
Clearly, Montenegro are not just along for the ride.
That was a fact made clear by the abrupt sacking of coach Zlatko Kranjcar (the father of Tottenham's Niko) just last month. The Croatian departed following the surprise defeat to Wales in Cardiff - the side's first defeat in qualifying.
He has since been replaced by his assistant, Brnovic, in an attempt to provide some sort of continuity ahead of Friday's match against England in Podgorica - but there remains latent unhappiness at the coach's exit.
"Kranjcar's departure was a shocking decision for fans," says Montenegrin football journalist Aleksandar Radovic.
"He received almost unanimous support, and there were calls for a fan boycott. I know at least 20 people who will not even try to get a ticket for England, although they went to every Montenegro match in Podgorica."
There are questions, too, over how the Montenegrin team themselves might react to such unaccustomed pressure, knowing how much the fixture means.
It calls to mind Balkan neighbours Bosnia-Hercegovina and their own choke in the World Cup qualifying play-off against Portugal in Zenica back in November 2009.
Chelsea midfielder Raul Meireles was on the scoresheet on that occasion as Portugal claimed a 2-0 aggregate win.
Montenegro are a team with no shortage of quality in the ranks, though.
There is Blackburn's talented but temperamental new signing Simon Vukcevic, Lille's robust centre-back and Champions League regular Marko Basa and skipper (and record scorer) Mirko Vucinic - who moved to Juventus for £12.8m this summer.
But Fabio Capello will need little warning of Montenegro's individual or collective qualities following the 0-0 draw against Kranjcar's men at Wembley in October last year, with the Italian describing them then as "technically very good".
And that was a result achieved without both Vucinic and their other star turn, Fiorentina's attacking midfielder Stevan Jovetic.
Having already announced his pedigree to a UK audience as a teenager back in September 2009, when his two goals guided the Viola to an impressive Champions League win over Liverpool, Jovetic made a strong impact on his return to competitive international action last month, scoring a fine goal in the defeat in Cardiff. His penetration will be integral to Montenegro's hopes against England.
So too, hopes Brnovic, will Montenegro's draw against England at Wembley - a result the coach hopes will inspire his charges in Podgorica on Friday.
Not that optimism is in abundance in Montenegro. As Radovic points out: "I'm not sure that a lot of people think that Montenegro will qualify. There are more pessimists than optimists right now."
Ultimately, it is likely to come down to Tuesday's final qualifying match in Basle against Switzerland to seal at least a play-off place for Montenegro - and a second-place finish in Group G would represent significant progress for a side that finished fifth in their qualifying group for the 2010 World Cup.
Ottmar Hitzfeld's Swiss side has been considerably boosted by the integration of the children of refugees from the Balkans, with Xherdan Shaqiri and former West Ham defender Valon Behrami among five in the squad born in the former Yugoslavia.
And with Montenegro standing on the edge of a landmark achievement, it would be richly ironic were they to take such a potentially large step towards qualifying for next summer's finals in Poland and Ukraine against a side with such strong Balkan roots.