Worthington angry as Ferguson fails to answer NI call
Last updated on .From the section Football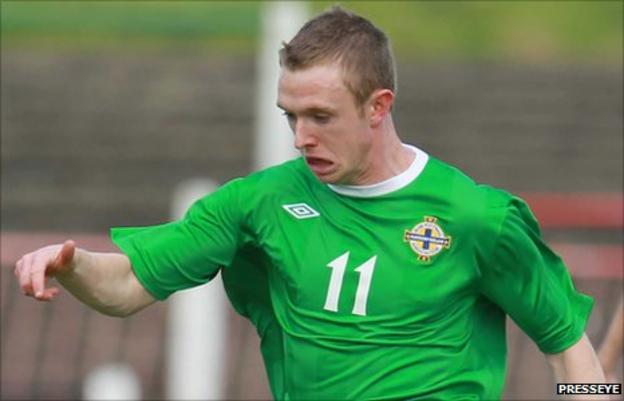 Nigel Worthington has said Newcastle's Shane Ferguson failed to answer a call-up to join the Northern Ireland squad for Friday's Euro 2012 qualifier against Estonia.
Worthington said on Thursday that he had attempted to contact the defender and had also notified his club.
"It beggars belief that there's no willingness or manners," said the Northern Ireland manager.
Responding on Twitter, Ferguson said there were "two sides to every story".
Ferguson added: "Some of these comments make me lol (laugh out loud)."
However, a frustrated Nigel Worthington had earlier said that "we can't literally drag people in".
In May, there were reports that Ferguson was thought to be considering switching his allegiance to the Republic of Ireland, however, he returned to play for the Northern Ireland Under-21s last month.
Worthington added: "I've been trying for the last 36 to 48 hours to get in contact with the boy to let him know I'd like to draft him into the squad.
"The club has been notified and we've had the medical records sent back to us, as we always do with players to see if there are any problems, but we've had no contact."
Ferguson has a Northern Ireland senior cap after playing against Tuesday's opponents Italy in a friendly two years ago.
As that was not a competitive fixture he is not yet tied to Northern Ireland but would be if he played any part in the Group C double header over the next few days.
There have been reports that a personality clash with Worthington, rather than a possible switch to the Republic, are behind Ferguson's elusiveness.
The manager, though, believes everything possible has been done and sounded frustrated when pressed about the issue on Thursday.
"I can only do what I've done. People at the Irish Football Association have done what they do and we can't do any more."
Worthington has had problems making contact with Ferguson in the past and he responded to the suggestions of personal animosity between player and manager at Thursday's Northern Ireland press conference.
"Sometimes you make young people aware of things that would make them a better player, whether that's upset him in some way or another I don't know," said Worthington.
"If he wants to be involved, great. If he wants to go somewhere else, that's his decision.
"If I'm not here [at the end of the current Euro 2012 qualifying campaign] and he wants to come in after that, that's up to him.
"Certainly, when I was a young man, if you were selected for your country you were on the first plane over."
With Northern Ireland's qualification hopes almost certainly over, Friday's game could be the final time that Worthington takes charge of the team at Windsor Park.
Worthington faced calls for his departure from fans after last month's 4-1 defeat by the Estonians in Tallinn and former Northern Ireland boss Lawrie Sanchez also called for his exit.
"Frustration is understandable," said Worthington of the fans.
"They spent their money and took time off work to support the team, so you're as disappointed for them as you are yourself."
However, Worthington said that he was "bemused" by Sanchez's comments.
"Other people did the talking for me, I didn't need to say anything because I wanted to keep my professionalism intact.
"Sometimes minorities get the headlines and that's life, you deal with it."