England captain John Terry backs rugby's Martin Johnson
By Phil McNulty
Chief football writer in Podgorica, Montenegro
Last updated on .From the section Football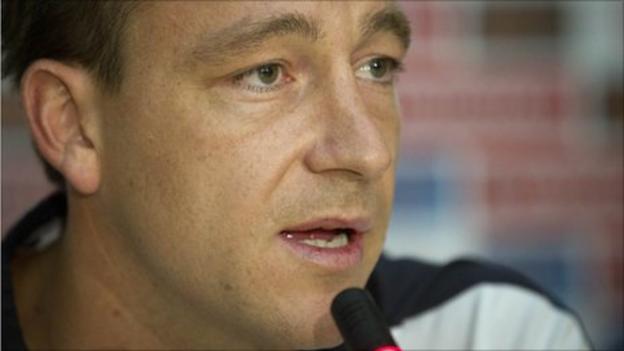 John Terry has praised the way in which England rugby manager Martin Johnson has handled his players during their World Cup campaign.
England's tournament in New Zealand has been blighted by off-the-field controversies, but Terry has been impressed by Johnson's response.
The 30-year-old centre-back said: "I like the way the manager [Johnson] has come out and defended them.
"When managers come out and back you, it brings you together. I like that."
Speaking ahead of England's quarter-final against France on Saturday, Terry added: "Martin Johnson has dealt with it really well.
"They've played OK in a couple of their games, but when something like that happens it brings everyone closer together. You knit together. It's you against the world, really.
"The demand on their bodies is incredible. They've got a really good chance and, hopefully, all that will be forgotten."
England's players were criticised for bungee jumping on a day off in New Zealand and Terry admits there are things of a similar ilk he would like to try - but not until he has finished playing.
Terry, who leads England into their final qualifier in Montenegro on Friday with only a point required to secure Euro 2012 qualification, was asked whether England's footballers may have been subjected to even more severe criticism had they acted in a similar fashion to their rugby counterparts.
"It's a tricky one, this. I've not been bungee jumping but I would do it," he said. "There are a couple of things I'd like to do when I've finished playing, parachuting and things like that, but until I've finished playing I wouldn't consider doing them.
"At the same time, me and Joe Cole wanted to go in the shark cages in South Africa during the World Cup last summer and were stopped by Franco Baldini. He said it probably wasn't the best idea."