Corinthians cool interest in signing Carlos Tevez from Manchester City
By David Ornstein
BBC Sport
Last updated on .From the section Football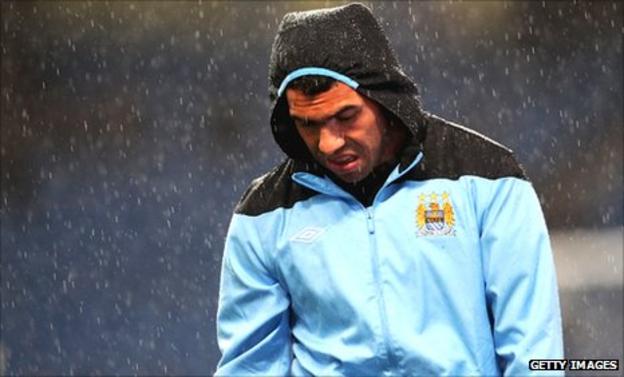 Corinthians have no plans to renew their interest in Manchester City striker Carlos Tevez, their general manager Edu has told BBC Sport.
The 27-year-old is currently suspended while City investigate his alleged refusal to play against Bayern Munich.
"At the moment there are no plans to try and sign him again," said former Arsenal and Brazil midfielder Edu.
"I'm starting to think about our new squad for 2012 and I've talked to our coach [Tite] about what we need - but Tevez was not mentioned.
"We are always interested in world-class players like Carlos but you need to analyse if it's right for you at that time to try to sign him or not. We have not spoken to him or his agent."
Edu was in London as part of a trip to Europe aimed at working on deals for new players and building the Corinthians brand overseas.
He attended the Leaders in Football conference on Wednesday and Thursday, where a number of City officials and Tevez's adviser Kia Joorabchian were also present.
"As things stand, we have not considered going for Tevez," said the 33-year-old, who scored 15 goals in 127 appearances for Arsenal between 2001 and 2005.
"On Wednesday I spoke to our club president [Andres Sanchez] to see if he wanted me to make contact and start negotiations while I'm over in Europe but he said no, it's up to you to decide.
"Of course, that could change. It's nice to be over here to see the real situation of Tevez and speak to people about him. Then we can start to decide if it's right for us to try again."
Edu blamed the collapse of Corinthians' summer move for Tevez, who played for them for two years before joining West Ham in 2006, on a lack of time to complete a deal before the Brazilian transfer window closed at 0400 BST on 21 July.
"I was talking to Manchester City in July and we tried to buy him for 40m euros but the negotiations were not easy," he stated.
"We needed to arrange bank guarantees and other things. To organise all of that in two or three days was very difficult. That's why we lost him."
City are still looking into Tevez's behaviour during their 2-0 defeat by Bayern on 27 September, with the Argentine international expected back for training on 13 October.
"It is very strange for me to hear that he refused to come on," commented Edu. "Every player knows that sometimes you have to be on bench, you work for the team whether you're playing or not.
"They pay him to work for the team whether he plays or not. I was a player and I can understand that sometimes it doesn't feel good to be on the bench, but if he decided not to play that was a very bad decision."