Libya eye unlikely qualification
Last updated on .From the section Football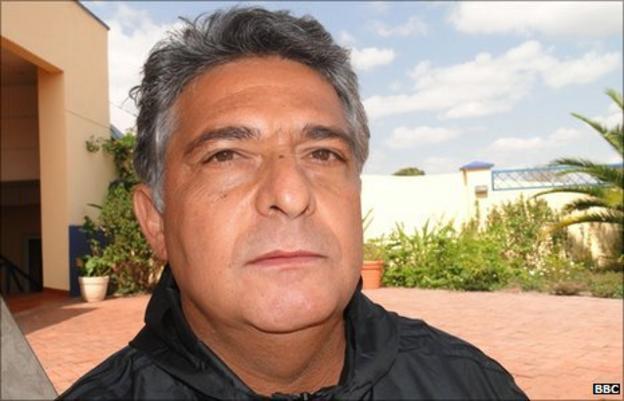 Libya coach Marco Paqueta says his players will have more than football in mind during Saturday's vital Africa Cup of Nations qualifier in Zambia.
As fighting rages in Libya, Paqueta believes his team needed no motivation.
"In their minds they are not only playing for football success but for a new government and a new country," the Brazilian said on Friday.
"Zambia are a big side with a lot more experience but we have more motivation, especially now my players can see the target."
Libya will achieve one of African football's most impressive qualifications should they win in Chingola, where they trail their Zambian hosts by just one point in Group C.
Just over a month ago, Libya were not even sure of completing their qualifying programme but they won a 'home' match against Mozambique in neutral Cairo to stay in contention.
As fighting intensified around Tripoli, Paqueta's involvement in the Cairo clash was unclear but he arrived at short notice - having bought his own ticket - to oversee a 1-0 win.
On Friday, he revealed that he has not been paid for the last six months, almost since the start of the uprising against Col Muammar Gaddafi began.
And he freely admits that his team, which has had a 10-day training camp in Tunisia to prepare, is short of match practice.
The majority of Libya's squad is home-based, where there has been no league football since March, while six others play in neighbouring Tunisia, where the league has been in hiatus since June.
"It will be difficult without regular match time but I have made a programme for each player to follow while they have had no games," Paqueta added.
"I know the qualities of each player and I've prepared tactics to play against a team like Zambia."
Paqueta signed a four-year contract last year when the Gaddafi family was firmly in charge of the country's FA, and he says he is reluctant to let his players down by quitting his post.
"In Brazil everyone said I was crazy to try and stay in this job, but I want to go on and try to finish the task," he explained.
"I don't want to just leave the players, I have a belief in the players - I'm a friend to them and I feel they also want to play for me."