Rangers' Nikica Jelavic reveals Fenerbahce approach
Last updated on .From the section Football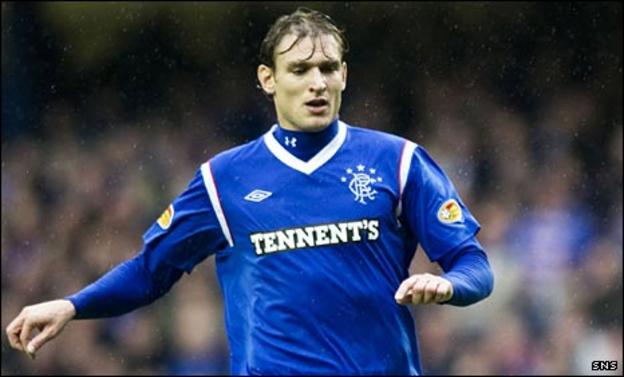 Nikica Jelavic says he rejected overtures from Fenerbahce to remain with Rangers this summer but admits he would like to play in England one day.
The striker was the subject of a failed £6.5m bid from Leicester City.
"While there was a good offer from Leicester, that is not a club I want to move on to if I am to leave," he said.
"Fenerbahce's proposal was really interesting, but I wanted to stay because we have a very good chance of winning the title again this season."
Rangers sources had claimed that they received a £9m offer from a mystery club in the final hours of the transfer window but that they were determined to retain the Croatia striker.
"In all honesty, I am very happy here," Jelavic told Rangers Monthly.
"At the moment, I'm really not thinking about any new clubs.
"I enjoy it in Glasgow, my family are happy here too and I still have three years on my contract.
"For me, the best league in Europe is in England and I would like to play there one day, although Spain and Germany are also very attractive.
"It is natural that I should want to play in the best competitions, and it would be nice to do that at some point, but I'm really not thinking about any of that at the moment."
Jelavic scored 19 goals in his debut campaign despite spending almost four months on the sidelines through injury.
His tally stands at six this season and, although conceding he was slow off the mark, the striker insists he has even more to offer this term.
"There is still lots of scope for progression and improvement," he said. "With every new year, you need to get better.
"You might start a season and get the first five games in the side because of what you did in the last campaign, but if you're not scoring you will be out again.
"I feel I need to prove myself all over again and, as a striker, my job is to score many goals and to keep the team at a high level. Hopefully I can keep doing that.
"I am starting to feel better because I didn't start this season the way I wanted to.
"I am not so satisfied with my form overall, but it is getting there now.
"I had a few little injuries before. But, game by game, I hope to be better than I was last season."