Gary Neville damning of England's Euro 2012 hopes
Last updated on .From the section Football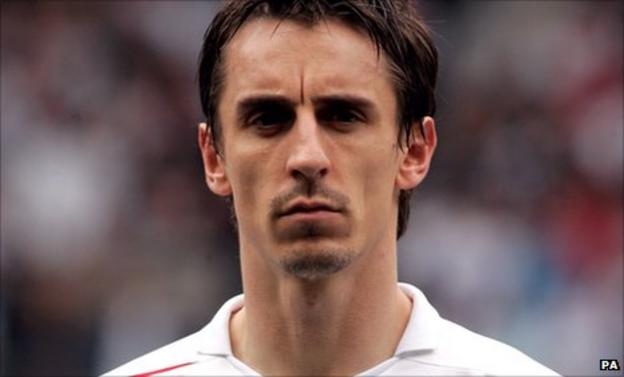 Gary Neville believes England are not good enough to win Euro 2012, saying they lack mobility and invention.
"What we should be talking about is the spine of a team that has no mobility and can't keep the ball," he wrote in the Mail on Sunday.
"The real issue is that the spine of the team is not good enough."
The defender, who won 85 England caps, pulled no punches in his assessment of Fabio Capello's side.
"When I look at it coldly, a team that has John Terry, Gary Cahill, Scott Parker, Gareth Barry, Darren Bent and Rooney in its central positions is nowhere near good enough to take on the major nations such as Spain.
"I'm not having a go at individuals; there are some very good players among those names.
"[But] Rooney aside, there is hardly any pace, very little invention and hardly any rotation of positions. Compare that with the spine of Spain: Carles Puyol, Gerard Pique, Xabi Alonso, Xavi, David Villa and Fernando Llorente."
England take on Spain in a friendly at Wembley next month with Neville keen to see a number of younger players given a chance.
"Let's be clear, England are not as good as Spain but you can't just accept they're better," said Neville.
"You have to find a way to stop them, to disrupt the rhythm and to hurt them going forward - because England need to believe that, in a one-off, they can beat Spain.
"The rest of Europe is watching and if Spain do what most people think they will do and destroy us, just like France did in February 1999 at Wembley when they were world champions, then England will go into Euro 2012 thinking they have no chance.
"There are younger players - Chris Smalling, Kyle Walker, Phil Jones, Tom Cleverley, Alex Oxlade-Chamberlain and Danny Welbeck - who are mobile, talented and not tainted by previous failures.
"Somehow, Capello has to mould those with the more experienced players into a team to compete with Spain because the team that played on Friday would be well beaten. It's now time for Capello to be brave."