Nigeria demand answers from coach over Nations Cup exit
Last updated on .From the section Football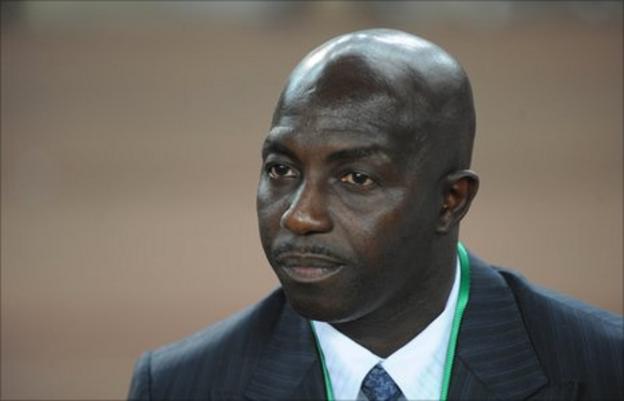 The Nigeria Football Federation (NFF) has given coach Samson Siasia 48 hours to explain why the country failed to qualify for next year's Africa Cup of Nations.
Siasia's side were knocked out after being held to a 2-2 draw by Guinea in Abuja on Saturday.
At an emergency meeting in Abuja, the NFF technical committee demanded answers from the head coach over his team's exit at the final qualifying hurdle.
In a statement, the NFF said: "Siasia must explain the Super Eagles' poor performance in the qualifying series."
Siasia earlier apologised to Nigerians for the team's failure to make the Nations Cup finals for the first time in 25 years.
Striker Obinna Nsofor also apologised to Super Eagles fans and said he is still struggling to come to terms with his team's elimination.
"It's very, very difficult to swallow," he told BBC Sport. "It's very painful."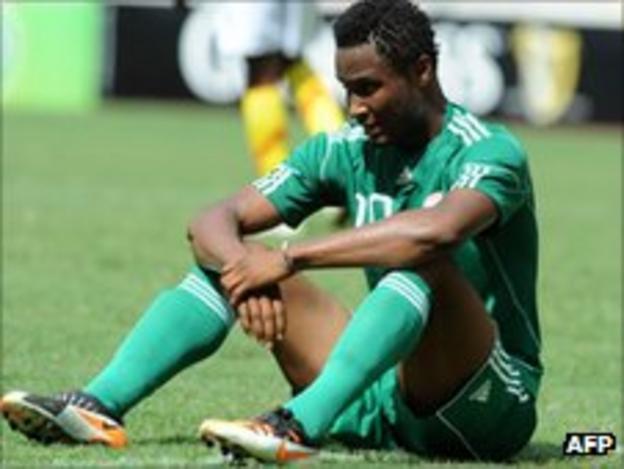 Obinna, who scored one of his side's two goals described his emotions on the final whistle, after Ibrahima Traore's strike deep into stoppage time ensured Guinea's progress at group favourites' Nigeria's expense.
"For me it was unbelievable. I couldn't still believe that we were out.
"[For this] game, we came with high spirits. We started very well, we wanted to win, and had so many chances to score in the first half.
"Unfortunately we didn't. I have to say sorry to [the fans]. "
Obinna also said he understood the Nigerian fans' anger, but could not condone the violence displayed by a number of supporters, who reacted to the defeat by damaging parts of the Abuja National Stadium, including the media area.
"The fans have their right [to be angry].
"They love football and they love to see the Nigerian Super Eagles at the top level.
"They always want us to win, [and] they are right, and they know that we are capable of qualifying for the Nations Cup.
"If I was a fan I would get upset, because it was so disappointing, but getting upset and trying to be violent are two different things.
"All I have to say is sorry to them. My message to them is to calm down and we really apologise for not qualifying, because we promised them that we would qualify."