South Africa formally lodge appeal against Caf rules
Last updated on .From the section Football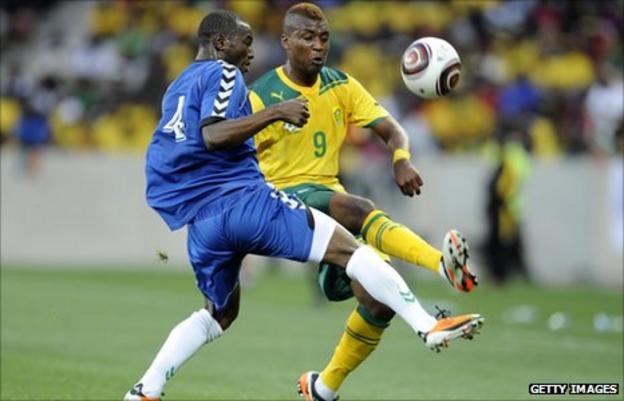 South Africa's FA has officially filed a protest to the Confederation of African Football over the qualifying system for the Africa Cup of Nations.
"We hereby declare a dispute with Caf regarding the provisions of the regulations," said Safa CEO Robin Petersen in a statement.
This is despite South Africa's coach admitting he was unaware of the rules.
Caf regulations elevate head-to-head records above goal difference and these were taken into account after three teams finished on top of Group G with nine points: Niger, South Africa and Sierra Leone.
Niger, who had never previously qualified for a Nations Cup, made history despite losing 3-0 in Egypt on Saturday thanks to Article 14.1 of Caf's 2012 Nations Cup ruling.
This states that 'in case of equality of points between two or more teams after all the group matches', the greater number of points obtained in matches between the concerned teams shall be the first deciding factor.
Niger top that three-team mini league, with their six points one superior to the tally mustered by both South Africa and Sierra Leone.
"We are of the opinion that this particular rule should be thrown out because it defeat the traditional way of determining a (group) standing," Petersen added.
However, Bafana Bafana coach Pitso Mosimane has admitted that he played for a draw as South Africa ground out a 0-0 result at home to Sierra Leone on Saturday.
"Do you think I would have left (striker Lehlohonolo) Majoro on the bench and put on a midfielder if I knew that we needed a goal? It doesn't make sense," he said.
Mosimane was under the impression that goal difference was the determining factor and when he learned that Niger were losing in Egypt, he changed tactics to settle for a draw.
South Africa actually needed a win to avoid being eliminated but no-one appeared to have studied the regulations correctly.
After the match, South Africa's FA President Kirsten Nematandani attempted to rally the Bafana Bafana squad.
"Do not despair, all is not lost - we believe we have a case and we will carry this fight all the way," he told them.
"In the meantime be positive, and leave everything in our hands."
Should South Africa fail with their appeal, they can console themselves with their thought that they have already qualified for the 2013 Nations Cup.
It was confirmed last month that South Africa will host that tournament, after agreeing to swap the 2017 competition with Libya.