'All the teams that qualified are now the big teams'
Last updated on .From the section Football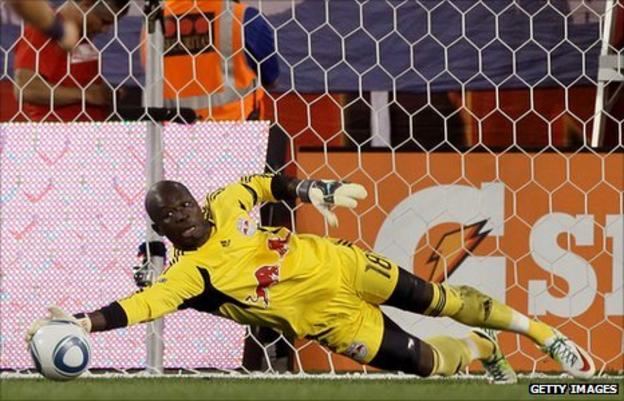 Senegal goalkeeper Bouna Coundoul has warned against any over-confidence on the part of the more established teams to qualify for the 2012 Africa Cup of Nations finals.
His cautionary comments come after a dramatic series of qualifying rounds which saw many leading names and former champions fail to progress to Gabon and Equatorial Guinea at the expense of teams previously considered Africa's lesser lights.
Nigeria, South Africa and Egypt all exited at the qualifying stage, while teams such as Niger, Botswana, Sudan and Libya booked their places at January's finals.
"All the teams that qualified are [now] the big teams," Coundoul told BBC Sport.
"Names nowadays don't mean anything. You've got countries like Sudan and whoever else qualified, they're very dangerous.
"The fact that they have come out of their group means they're the big team.
"So that's why we have to be ready for anything because any team that you underestimate will give you a hard time."
Senegal secured their own qualification as unbeaten winners of Group E, with a team-record haul of 16 points, which helped to make up for the the country's failure to qualify for Angola 2010.
And New York Red Bulls keeper Coundoul thinks next year's tournament could represent the Teranga Lions' best chance of claiming their first Nations Cup triumph.
"We already made history [by finishing with a record 16 points], but it's not good enough because Senegal hasn't won anything," he said.
"In the past we've been to the semi-final, we've been to the final, but nothing yet. The main thing is to win something.
"So right now we have a good group, we have a good generation [of players], everybody's humble, so hopefully 2012 will be the year for the Senegal national team, and we're working on it."
Of all the teams to upset the odds, Libya's qualification for only the third time in the national team's history - and with fierce fighting continuing in the country - is one of the most remarkable.
And despite the domestic turmoil and uncertainty in Libya, the team's Brazilian coach Marco Paqueta has already started preparing for the Nations Cup finals by launching an immediate search for more players.
"I am preparing now to choose more players," he told BBC Sport after a 0-0 draw with Zambia on Saturday sealed one of two best runners-up spots for the Libyans, and also saw Zambia through as winners of Group C.
"I have to see some players that play outside Africa.
"I hope to collect more than 90 per cent of the players and train together in a maximum of 25 days."
The majority of Libya's squad is home-based, where there has been no league football since March due to the fighting, while six other players are based in neighbouring Tunisia, where the league has been in hiatus since June.
One of the teams with ambitions in 2012, Mali, are also planning their preparations after reaching their third straight finals with a 2-2 draw with Liberia, which saw them finish top of Group A.
Their captain Cedric Kante says they will now go away and get ready for the tournament.
"We have three months to improve and it's a good thing to have time because we have many, many young players," he said.
"Am sure we will be ready in a few months."