Presidential welcome for Niger after Nations Cup joy
Last updated on .From the section Football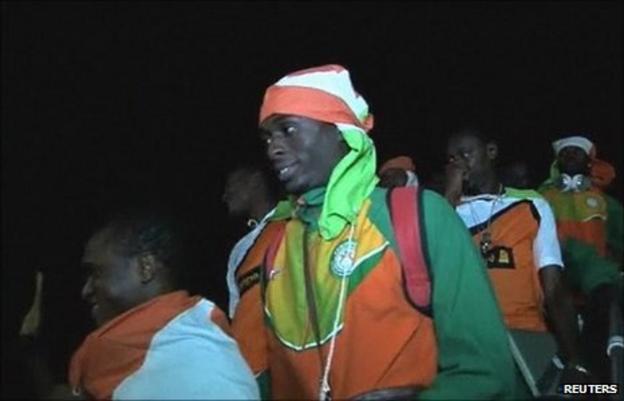 Niger received a heroes' welcome on Sunday night when returning home from Egypt after qualifying for their first Nations Cup in history.
Despite losing 3-0 in Cairo, the Mena qualified thanks to a better head-to-head record than Group G rivals South Africa and Sierra Leone.
Supporters waited for their team at the airport, singing and dancing.
"I am lost for words, really. It's an immense joy which I can't even describe," said fan Abdoulaye Maman.
However, just as in South Africa, where the home team erroneously believed it had qualified for the finals, Niger's squad were unsure of their qualification.
"After the game, I was very disappointed and very angry because we performed very badly," said star player Moussa Mazou.
"While we were in the bus, we learned that it was 0-0 in the other game (between South Africa and Sierra Leone) - we had to do calculations and mathematics.
"But we received a call telling us that we had qualified for the Nations Cup - it was total happiness and we forgot the slap we received earlier from Egypt's young team."
Despite Egypt fielding an under-23 side in preparation for next month's final African Olympic qualifying round, the Mena's defeat was the heaviest of their Group G campaign.
But this was all forgotten as crowds of fans sang and danced as they accompanied their new heroes to the presidency where Niger's President Mahamadou Issoufou received the team.
"I'm completely satisfied and our team proved that Niger is one of the best across the board," Issoufou said.
"It's what we've been fighting for for 51 years and now we've got it.
"This is a chance for the people of Niger to learn a lesson - that in all areas, we can be among the best."
The Mena, which is the word in the Hausa dialect for gazelle, have been attempting to qualify for the Nations Cup since 1970.
They had their home record to thank for this qualification, having won every match at their Stade General Seyni Kountché stadium, including a famous defeat of African champions Egypt.
Niger have few internationally-recognised players, but Maazou is one that stands out - having played for CSKA Moscow, Bordeaux and Monaco during his career.