Off The Bawl - 05 October 2011
Last updated on .From the section Football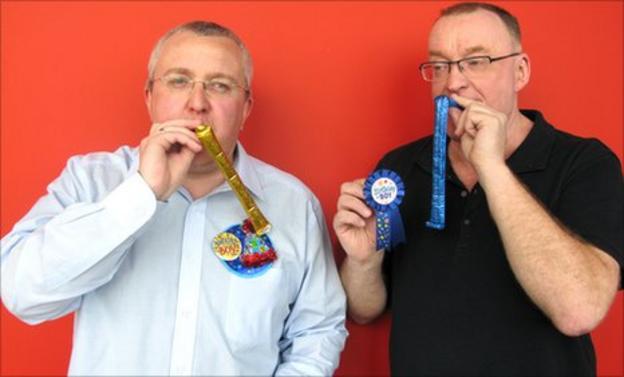 Greeeeeetings! Our star guest on Saturday was one of Scottish football's most colourful characters - former Hibernian boss John 'Yogi' Hughes. A man who, according to Ross from Greenock, once put out an appeal on Sportsound for "the only 6ft 5in Frenchman in Falkirk toon centre" after one of his continental signings went AWOL.
"Top guest today," said Malky Campbell in Bridge of Weir, "the best you've had for years".
And Chris in Bonnybridge said: "Big Yogi should forget all about football and just do a stage show filled with his football memories."
The rest of Saturday's show was dominated by penalties (in the week Garry O'Connor won a controversial spot-kick against St Johnstone and Udinese got a soft one at Parkhead) and a terrific Team of the Week - The Sitcom XI.
Here's another selection of the most petty and ill-informed texts and emails on radio...
PENALTY!
Stuart in Edinburgh said: "My favourite penalty was the one Hearts were awarded in the first minute - yes, the first minute - against Rangers (seriously!) in the 1998 Scottish Cup Final. We went on to lift the trophy."
Tatty from Hamilton said: "What about the shoot-out at Douglas Park in the 1991 B&Q Cup final between Hamilton Accies and Meadowbank Thistle? Fourteen penalties were taken by both sides (every player on the park hit one) and the final score was 2-1! Accies' keeper Allan Ferguson had a great night."
[Former Accies captain Jim Weir later contacted the show to point out that not every player took a penalty - but why let the facts get in the way of a great story?]
Anon said: "Jorg Albertz's penalties were always pretty memorable as you always felt sorry for the poor goalkeeper."
Logan Jack said: "Goalkeeper Artur Boruc took a great penalty for Celtic in a League Cup shoot-out against Dundee Utd. Top corner, cool as you like."
John Daly in Houston said: "I don't think any Celtic fan will forget Dixie Deans missing one at Parkhead against Milan in the 70s that put us out of Europe."
Anon said: "The best penalty I've ever seen was in a Spanish U-21 game. The boy kicked the ball with his standing foot and scored. Check it out on You Tube."
Conmar in Arbroath said: "Greatest ever missed penalty was surely a famous one by Hugo Sanchez. Don't know how he did it, but he somehow managed to hit the corner flag!"
Stevie in Jordanhill said: "The best penalty in the history of world football was the cracker from Diana Ross at the opening ceremony of the 1994 World Cup. The goals were wider than the Clyde Tunnel but she still managed to put it miles past the post. And they want us to respect women's football...?"
TEAM OF THE WEEK
The Sitcom XI (aka Til Death Do Us Partick Thistle, aka Glasgow Rangers - Are You Being Served With A Tax Bill?)
Stadium: Last Of The Somerset Park Wine
Manager: Please Sir Alex Ferguson
Coach: Coach: Gordon Strachan (Red Dwarf)
1/ Artur Porridge
2/ Kirk Broadfoot In The Grave
3/ Bobby Mann About The House
4/ Tommy Rings On Their Fingers (c)
5/ John Terry & June
6/ Drop The Dead Davie McPherson
7/ Father Ted McMinn
8/ The Fresh Prince Buaben Of Bel Air
9/ Only When I Lafferty
10/ The Fall And Rise Of Reginald Blinker
11/ Two Pints Of Lager And A Packet Of Kris Boyd
Subs: Kenny Blackadder, The Liam Brady Bunch, Dear John Hartson, The Derek Young Ones.
AND FINALLY...
The song that played us out? A Mr K Shiels in Kilmarnock asked if we could dedicate a record to Kirk "ugly boy" Broadfoot. It was the old Shakin' Stevens classic Lipstick, Powder and Paint...
To join in the fun on this Saturday's show, call 0500 929500, text 80295 or email offtheball@bbc.co.uk