Off The Bawl - 10 October 2011
Last updated on .From the section Football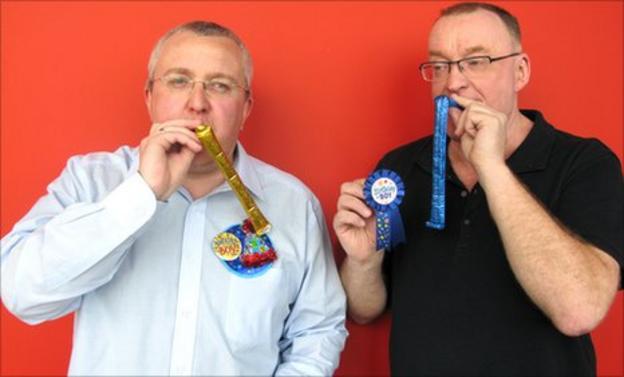 Greeeeeetings! "You've had some great guests on Off The Ball," emailed Colin Barr from Edinburgh, "but Wee Craigy Broon and Frankie Boy McAvennie are different class."
Hear hear, Colin. What a legendary pair, eh? The sex-mad ladies' man who's always got a twinkle in his eye... and the former Celtic and West Ham striker!
The ex-Scotland boss was in great form on Saturday - well, the international break means Aberdeen have gone two weeks without getting beat - and, who knows, he might even get another crack at the England team that gubbed us at Euro '96.
As Barney in Neilston pointed out: "Considering everyone accepts the ball moved just before Gary McAllister hit that infamous penalty, surely the ref should have ordered a re-take as the rules clearly state the ball must be dead at a spot-kick?"
A fair point well made, Barney. So... when's the replay? Let's see Gazza try to score a goal like that now...
This week's talking points? Well, as a wee tribute to Cillian Sheridan's moustache, we looked at Scottish football's great mousers. We tried to find a suitable name for Aberdeen's new stadium. Our Team of the Week was The Curry XI. And, on the eve of Scotland's double-header against Liechtenstein and Spain, we asked the listeners to choose an uplifting tune to play us out.
Here's another selection of the most petty and ill-informed texts and emails on radio...
MEMORABLE MOUSERS
Joe in Bishopgriggs said: "Football's best ever moustache was surely John Wark's. He looked like a 70s porn star."
Lynn Aoki in Japan said: "One of the best moustaches ever belonged to Hearts legend Drew Busby - and he still has it now!"
Ray in Cardonald said: "Remember Jim White's 'tache? He looked like a WW2 spiv."
(He actually had to shave it off, Ray, as it kept tickling Brian Laudrup.)
Gary Kydd in Dundee said: "The most famous moustache ever seen in Scottish football surely belonged to former Sportscene presenter Dougie Donnelly? It was a real hairy caterpillar effort and looked a lot like Ian Beale's in Eastenders."
Gerry said: "I nominate Hamish McAlpine. By the way, how's Spit The Dog these days?"
Graham said: "Typical sexism on Off The Ball. All this talk of moustaches and nobody has mentioned any of our great women footballers..."
Simon from Cardross said: "I grew a really feeble moustache for last year's Movember charity campaign and raised a decent bit of money. Most of it, however, came from a £75 donation from the father-in-law who asked me to shave it off as he was embarrassed to be seen in my company."
THE NEW PITTODRIE
Dons fan Kenny Kortland said: "They should call Aberdeen's new stadium The Ewe Camp."
Scott in Paisley said: "As Pittodrie is Gaelic for 'hill of dung' I think they should actually call it The Poo Camp."
Neil in Stonehaven said: "The new Aberdeen stadium should be called The Nik Kershaw Arena. Like Aberdeen, he was big in the 80s but has done nothing ever since."
TEAM OF THE WEEK
The Curry XI
Chairman: Sir David Ruby Murray
Management duo: Terry Halal Butcher & Maurice Madras
1/ Pakora Bonner
2/ Tommy Ring Of Fire (c)
3/ Anton Rogan Josh
4/ Brian Rice
5/ Istvan Korma
6/ Poppadom Sullivan
7/ Lopez Ufarte
8/ Dean Windass
9/ Simon Stained-bog
10/ Roberto Bhajio
11/ Vindaloo Macari
Subs: Balti Auld, Chapati Nevin.
A SONG FOR SCOTLAND
I'm On My Way by The Proclaimers (Rab in Ayrshire)
Fields Of Fire by Big Country (Norrie)
Dignity by Deacon Blue (Willie from Callander)
Highway To Hell by AC/DC who have three members with Scottish roots - Bon Scott, Angus and Malcolm Young (Iain Moss in Edinburgh)
Caledonia by Dougie MacLean (Reid in Larkhall)
Meanwhile, Kevin in Leith said: "Since the numpty in charge of Scotland won't play Garry O'Connor or Steven Fletcher, might I suggest I'm Levein On A Jet Plane by John Denver. If only."
But the most popular choice - and the tune that played us out - was Loch Lomond by Runrig, suggested first by Jaimzie in Forfar.
AND FINALLY...
Stevie in Jordanhill said: "Tam, I've had six sleepless nights ever since last week's Sunday Supplement when you asked for the connection between newsreader Anna Ford and the legendary Scottish singer Kenneth McKellar... and forgot to tell us the answer! However, after trawling through countless websites, I think I've cracked it. Kenneth wrote a sketch for The Secret Policeman's Ball in 1979 that Anna Ford took part in. And it was the only time the Monty Python team had ever performed a sketch they didn't write. Am I right?"
Yes, Stevie, well done!
PS. On behalf of the countless listeners who sent in texts and emails, Off The Ball would like to wish Scotland legend Gordon McQueen all the very best in his battle against cancer. Get well soon, big man.
To join in the fun on this Saturday's show, call 0500 929500, text 80295 or email offtheball@bbc.co.uk
Listen to the most recent Off the Ball programmes.
Download the latest Off the Ball podcast.